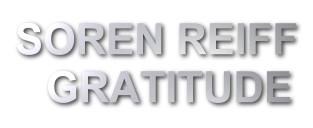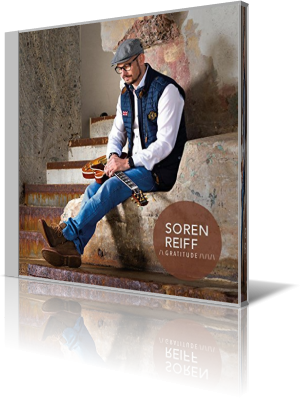 Danish guitarist Soren Reiff introduced the smooth jazz world to his work with the debut album Funky Flavas (2003), which was reviewed in our retrospective. His sophomore album Miss You was released in October, 2010.
Now he returns with his third album Gratitude (2015). The album shines with a stellar crew of guest musicians such as David Garfield (Wurlitzer, Rhodes), Jimmy Haslip (bass), Gary Novak (drums), Michito Sanchez (percussion), Alexx Daye (vocals) and more.
If inner calmness and musical harmony find a common place, we are thankful. Gratitude calls Soren Reiff this condition and his musical interpretation. More inclined towards rock music is the next piece Let's Play.
Who Would You Be? deals with the sensitive issue of homelessness, however in contrast to the pleasing insinuating implementation featuring singer Alexx Daye. Blues for J is dedicated to Soren's late brother Jasper and mirrors his influences.
You Turn Me On originated from a gimmick with his studio equipment and satisfies with its gaudy elements. Longing Home is his ode to the beauty of his homeland. Alexx Daye presents in the brisk ballad I Can't Deny anew her excellent voice. A little swing, a little gospel, that's Have to Move On. In any case, an emotional guitar music.
Make Some Noise is influenced by the spirit of Jimi Hendrix combined with a powerful horn arrangement and David Garfield shining on Rhodes and Wurlitzer. The album offers in addition some variations of the previous songs with a change of mood and other approaches.
Soren Reiff's album Gratitude is a treasure trove of wonderful melodies. A true asset of the smooth jazz genre.




Biography

Website


Buy the album in all stores

Album Information

Title: Gratitude
Artist: Soren Reiff
Year: 2015
Length: 1:09:04
Genre: General Jazz
Label: Gateway Music


Tracks:
01 Gratitude (feat. David Garfield) [5:55]
02 Let's Play [5:33]
03 Who Would You Be? [5:50]
04 Blues for J [6:35]
05 You Turn Me On [5:41]
06 Longing Home [6:22]
07 I Can't Deny (feat. Alexx Daye) [4:58]
08 Have to Move On [6:03]
09 Make Some Noise (feat. David Garfield) [5:21]
10 Who Would You Be? (feat. Alexx Daye) [5:51]
11 I Can't Deny [4:58]
12 You Turn Me On [4:16]
13 Silence [0:11]
14 Who Would You Be? (feat. Jimmy Haslip & Kim S. Hansen) [1:32]


Further reviews:

Miss You

Funky Flavas