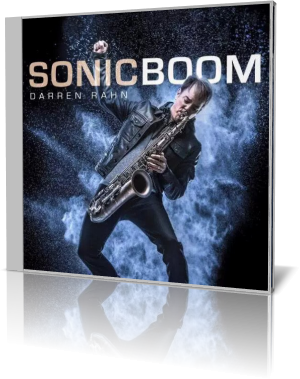 Canadian born and Denver resident smooth jazz saxophonist and producer Darren Rahn started his solo career with Soulful (2004), followed by Once In A Lifetime (2007), Talk of the Town (2009), Speechless (2012) and this year Sonic Boom.
On his new album he assembled premium musicians like Mel Brown and Julian Vaughn (bass), Tarell Martin, Anthony Jones and Anthony Steele (drums), Jason Rahn (trumpet, flugelhorn), Allen Hinds, Frank Selman and Matt Godina (guitar), Rick Braun (trumpet), Robin Eubanks (trombone), Jonathan Fritzén (piano), Rico Wint (vocals), Priscilla Rahn (flute), Michael Williams (Hammond organ), Morris Alan, Ronda Wilson, Yvonne Brown, Ian Pitter, Cha'Rel Ji'Cole (vocals).
The album starts with the stunning D-Luxe, which mirrors in several respects the multi-talent of this saxophonist. A perfect arrangement pairs with the mastery of several instruments. Not to forget the meticulous tuning while recording.
Sonic Boom features Swedish keyboardist Jonathan Fritzén, whose live performances are often accompanied by eccentric gestures. But Darren doesn't let the musical butter be taken from the bread. On Funk Avenue Darren teams up with trumpet legend Rick Braun, for whom he almost tailor made this excellent piece.
In 2004 Darren worked with Wayman Tisdale on the single Ain't No Stopping Us Now and also performed with the late bassist on several events. Losing You is Darren's tribute and who is better suited to take over the bass part than Julian Vaughn. Together...Forever... features blessed singer Rico Wint in duet with sax player Rahn. Luther Vandross would be proud about this project.
The funky contemporary jazz piece Altered Ego sees trombonist Robin Eubanks in the ring. Darren reveals his other side of music. 101 One is the return to smooth jazz with hooking power. Rock with You is a song written by British songwriter Rod Temperton and recorded for Michael Jackson's album Off The Wall. Darren's rendition is dedicated to the life and memory of Morris Alan, who arranged the vocals for this cover.
Sunday Soul showcases the Gospel attitude of Darren Rahn. Michael Williams on Hammond organ and the singers Yvonne Brown, Ian Michael G. Pitter, Cha'Rel Ji'Cole give Darren's recitation a wonderful surrounding. Promises is devoted to his wife Priscilla. His personal musical message of love and tenderness.
Darren Rahn has ignited with Sonic Boom the next stage of his rocket. The aim clearly in mind it's only a question of time and fortune until he will reach the top of the game.




Website

Biography

Buy the album in all stores

Album Information

Title: Sonic Boom
Artist: Darren Rahn
Year: 2016
Length: 0:51:17
Genre: Smooth Jazz
Label: Woodward Avenue


Tracks:

1 D-Luxe 4:34
2 Sonic Boom (feat. Jonathan Fritzen) 4:20
3 Funk Avenue (feat. Rick Braun) 5:50
4 Losing You (For Wayman) [feat. Julian Vaughn] 4:38
5 Together...Forever... (feat. Rico Wint) 4:52
6 Altered Ego (feat. Robin Eubanks) 6:27
7 101 One 4:56
8 Rock with You 4:13
9 Sunday Soul 5:30
10 Promises



Further reviews


Talk Of The Town