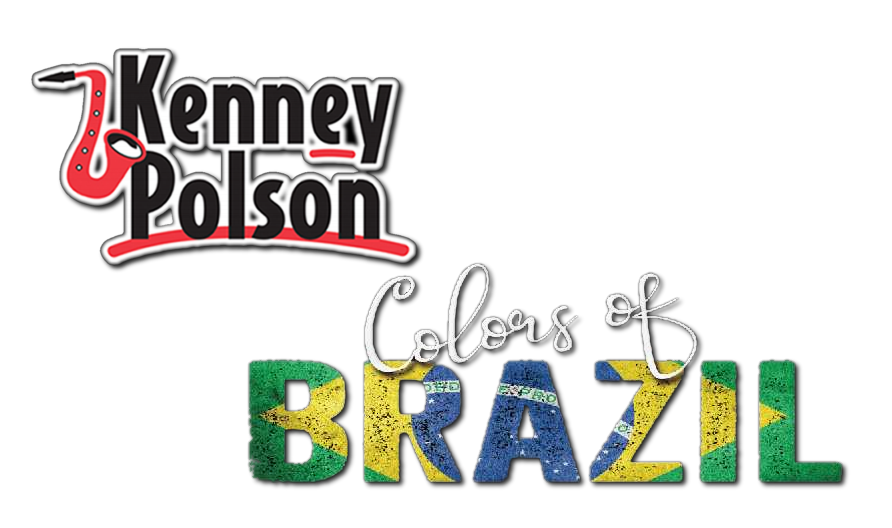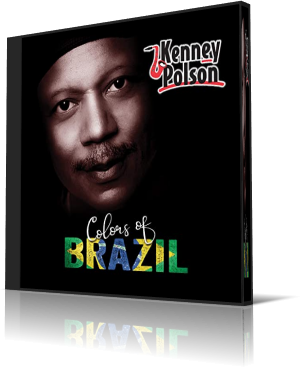 Kenney Polson has developed a strong relationship with Brazil. After all, he lived in Rio de Janeiro for several years. Colors Of Brazil is accordingly a kind of retrospective of this period of his life and the result of the musical influences from that time. The circumstance that the relationship has not yet broken off is evident, four of the recordings on this album were made in Brazil.

Diverse as his music is also the nature of the international musical cast. With the exception of harpist Mariea Antoinette, the musicians listed are not household names from the smooth jazz scene. Please refer to the credits for more details.

The album opens with Aquarela Do Brazil (Colors of Brazil) written by Ary Barroso in 1939 which commonly became a global hit in the Western world under the title Brazil. Kenny takes the tempo out of the Samba piece and lets the whole thing go very relaxed. Perhaps this is more the reflection of today's serene lifestyle.

Hipnotizado (Mesmerized) mirrors Kenney's very own style, which in its expression and the finely worked out almost orchestral arrangement richly staffed with strings and brass rather reminds of the music of the 60s. The Latin tinged tune also features Mariea Antoinette on harp who enriches the arrangement with this classical instrument.
So also the old gem by Duke Ellington Caravana (Caravan), which I heard in my childhood from a music chest of my parents, celebrates a resurrection. Brazilian maestro Marinho Boffa ignites a firework of notes on the keyboard.

Flor De Lis (Lily Flower) is a Samba tune by Brazilian singer Djavan from the same named album (1987). This love ballad is revived by a formation of excellent musicians who know their craft. Unusual to my ears in the context of a Samba is the sound of the Koto that is presented by Mitsuki Dazai and Dr. Osamu Kitajima.

Mariana was written by late bassist Nico Assumpção as tribute to his daughter. Kenny deliberately chose this piece to compete in virtuosity with this famous bass player.

Also on the Samba piece Leva e Traz (Give & Take) by Ivan Lins/Vitor Martin one can listen to Mitsuki Dazai's and Dr. Osamu Kitajima's performance on Koto. Do you know, that Brazil is home to the world's largest community of Japanese descendants outside of Japan, numbering about 1.5 million people?
Guitarist and singer Toninho Horta composed and recorded the Bossa Nova piece Andando de Bicicleta for his album Moonstone (1989). Passeio de Bicicleta (Bicycle Ride) is Kenny's sensitive adaptation on the saxophone.

João Bosco created the Samba tune Incompatidade De Genios (Incompatibility of Geniuses) in 1977. On his rendition Kenny chose Azure McCall's Al Jarreau-style scat performance instead of the original lyrics.

Dorival Tostes "Dori" Caymmi is a Brazilian singer, guitarist, songwriter of the Música Popular Brasileira, who also worked as an arranger and music producer and was nominated for several Grammies. His tune Obsessao (Obsession) is rather known only to insiders. Kenny shows that even a relatively simple structured melody can be developed into something worth listening to with good musicians. Mitsuki Dazai on Koto delivers the Japanese flair.
Final tune of the album is a cover of Luz Do Sol (Sun Light) originally created by Brazilian vocalist/composer Caetano Veloso, an ode to the beauty of life. A song that touches you deeply thanks to Kenny's gentle and sensible interpretation.
Colors Of Brazil appeals primarily to the friend of Brazilian popular music, as it was in vogue in the last century. It is thanks to musicians like Kenny Polson that it is not forgotten. With so much commitment and passion this music becomes a timeless document.




Buy the album in all stores

Album Information

Title: Colors Of Brazil
Artist: Kenny Polson
Year: 2021
Genre: Smooth Jazz
Label: Rosetta Records

1) Aquarela Do Brazil (Colors Of Brazil) (5:41)
2) Hipnotizado (Mesmerized) (4:18)
3) Caravana (Caravan) (5:40)
4) Flor De Lis (Lily Flower) (3:43)
5) Mariana (4:32)
6) Leva E Traz (Give and Take) (4:55)
7) Passeio de Bicicleta (Bicycle Ride) (3:40)
8) Incompatidade De Genios (4:32)
9) Obsessao (Obsession) (6:50)
10) Luz Do Sol (Sun Light) (4:49)




Credits:

Kenney Polson – Soprano, Alto, Tenor & Baritone Saxophones, Clarinet, Bass Clarinet, Vibraphone, Keyboards, Bells & Percussion
Paolo Erdos, Alessandre Carvalho, Dani Cortaza, Tom Lagana, Dan Balmer – Guitar
Leni Stern – Guitar, African nGnoni
Noah Simpson, Bidinho, Paulinho Trompete – Trumpet
Kyle Molitor, Vittor Santos – Trombone
Marcello Martins – Tenor Saxophone
Todd Simon, Michael Severson, Dario Galente, Marinho Boffa – Keyboards
Deems Tsutakawa – Piano
Federico Pena – Piano & Keyboards
Leonardo Lucini, Fernando Rosa, Nico Assumpção – Bass
Alejandro Lucini, Elcio Cafaro, Christian Oyens – Drums
Chuk Barber, Cidinho Moreira – Percussion
Mariea Antoinette – Harp
Mitsuki Dazai, Dr. Osamu Kitajima – Koto
Azure McCall – Scat Solo
Arrieta Ward – Vocals