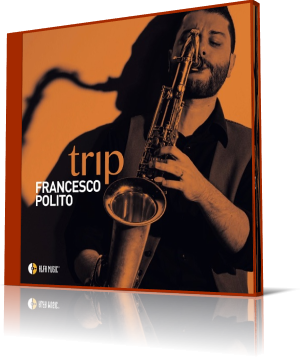 Born in Rom Francesco Polito decided at the age of 11 to play his favorite instrument, the saxophone. After his move to Naples he received a master in jazz music and improvisation at the Music Conservatory "San Pietro a Majella".
He was involved in CD projects of Don Backy, Carmelo Zappulla and Enzo Polito. Inspired by saxophonists like Boney James, Dave Koz, Euge Groove, Richard Elliot, his decision to create his own smooth jazz album was rather easy.
His debut album
Trip
was released May 29, 2020 on AlfaMusic. Unlike his label mate Gianni Vancini Francesco Polito is accompanied by Italian musicians especially from the family environment. Details about the accompanying musicians can be found in the
credits
.
The album opens with the title song.
Trip
approaches melodically dangerously to Careless Whisper of the group Wham. The crispy vibrations are unmistakable. When you search for the typical smooth jazz urban hype, then
In Your Eyes
shows more the Italian alternative.
Just Woke Up
shows a refreshing approach in a gripping way that enthuse the listener.
Martina
appeals with romantic flavor reserved for the best hour of the day. With
Freedom
Francesco jumps stylistically over the pond to inhale the American view of smooth jazz.
In recent years Dubai has made a name for itself as a hip venue for its own Smooth Jazz Festival. What could be more natural than to dedicate an own song to this interesting city with
Midnight In Dubai
. With
Mediterranean Nights
Francesco draws the trump card of the geographical position, which animates to exquisite music.
Summer Memories
reveals more of Francesco's Italian flair well supported by a nice synth solo. In terms of musical structure,
Back In Town
is a secret favorite.
A Testa in Giù
means in English
Heads Down,
an emotive piece of work with a surprising accordion solo.
Francesco Polito has laid the foundation for a successful solo career with
Trip
, whereby he has obviously chosen his own path.










Buy the album in all stores

Album Information

Title: Trip
Artist: Francesco Polito
Year: 2020
Length: 47:48
Genre: Smooth Jazz
Label: AlfaMusic

Tracks:

1) Trip (5:15)
2) In Your Eyes (4:36)
3) Just Woke Up (4:26)
4) Martina (5:09)
5) Freedom (5:33)
6) Midnight in Dubai (3:55)
7) Mediterranean Nights (4:57)
8) Summer Memories (4:35)
9) Back in Town (5:27)
10) A Testa in Giù (3:49)


Credits:

Francesco Polito (tenor, alto, soprano sax)
Enzo Polito (keys, Rhodes, Hammond, synth strings, accordion, piano)
Roberto Polito (drums, percussion)
Frank Marino (bass)
Silvio de Filippo (guitar)
Gianfranco Cloralio (guitar)
Beppe Polito (drums)
Massimo Romano (guitar)