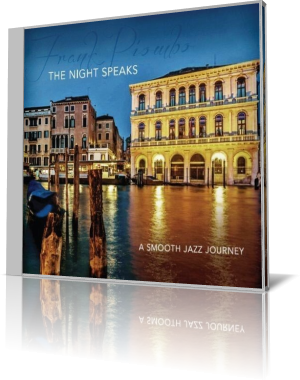 Born and raised in Libya, Tripoli, to Italians parents guitarist Frank Piombo reached with eight the American shores. Meanwhile he has performed with bands such as Sidewalk Symphony, The Fantasy Band, Stepping Out, The New Prince Band, US & Co., and the original Infernos.

Frank counts to his influences jazz guitarists Larry Carlton, former member of Fourplay and guitarist legend George Benson. Smooth Reminiscence (2010) and Sleepwalk (2011) are his first albums. His new album The Night Speaks - A Smooth Jazz Journey was already awarded as the best jazz/ambient album for Jan, 2016 by The Akademia Music Awards.

Frank performs on this album all guitars and is joined by Angelo Ucello (keyboards and vocals), Joyce Spencer, Rod Williams and Martin Barcos (sax), Nino Piombo (percussion), Sam Hankins (trumpet), Kim Scott (flute), Sean O'Bryan Smith, Michael Cardinale (bass), Phil Casagrande (keyboards and bass), Joe Arminio (sax and trumpet). All songs are produced and arranged by Frank and Rod Williams, who also performs keyboards on this album.

The album takes a start with Nightfalls. A wonderfully designed intro leads to Frank's soul filled guitar performance, which reminds me of Steve Laury's smooth jazz guitar style. Slowly grooving, sultry and full substance. Saxophonist Joyce Spencer rounds up the overall gorgeous impression.

As Smooth As It Gets is an assurance. And Frank keeps his promises. His subtle guitar play is emotionally accompanied by saxophonist Rod Williams and relined with a percussion rhythm. On Starry Night Frank smolders around a theme and passes each note like a wine drinker who tastes with relish his late harvest. Middle of the Night features Sam Hankins who turns his trumpet to fire.

Dusk to Dawn are the hours a normal person takes some sleep unless he is bitten by a vampire. This tune is more a sweet lullaby than the acoustic description of a bitten person. Starry Night is the vocal alternative to the previous instrumental version. Angelo Uccello is the interpret and shares a deep sympathy for music with Frank.

Pay It Forward showcases Rod Williams and Martin Barcos on sax with their individual different timbres and tonal colors. As Smooth As It Gets in an expanded version is a possible way to stretch out for improvisation. Not Frank. He perpetuates the melody line with his own Italian flair.

The Flight (Remix) brings some work on metal guitar. American harmonies with Italian tremolo reveal Frank's roots. Spooky gives me a flash back to the time of the Shadows.

Frank Piombo's The Night Speaks (A Smooth Jazz Journey) is not the typical smooth jazz, listeners used to hear on smooth jazz festivals. Frank just loves the range of his possibilities he also plays.




Album Information

Title: The Night Speaks (A Smooth Jazz Journey)
Artist: Frank Piombo
Year: 2013
Length: 0:46:42
Genre: General Jazz
Label: Frank Piombo


Tracks:
01 Nightfalls [5:03]
02 As Smooth As It Gets [5:20]
03 Starry Night (Instrumental) [4:42]
04 Middle of the Night [4:04]
05 Dusk to Dawn [5:14]
06 Starry Night (Vocal) [4:37]
07 Pay It Forward [4:50]
08 As Smooth As It Gets (Extended Mix) [6:19]
09 The Flight (Remix) [3:16]
10 Spooky [3:18]