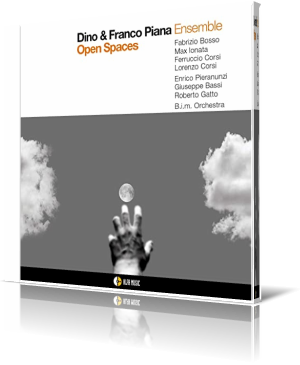 Dino and Franco Piana founded the formation Dino & Franco Piana Ensemble. Dino is the father of Franco, both are living and working in Rome. Since more than 10 years they are working with AlfaMusic and have already released three albums on this label. As Dino and Franco Piana Sextet they released
Seven
in 2012, followed by
Seasons
(2015) and
Open Spaces
(2020).
One can classify their style as progressive Big Band sound and by reading the
credits
one quickly recognizes that the brass element plays a major role in their music. Spiritus rector of this formation is Franco Piana, who also wrote all the compositions for the new album.
The structure of the album is reminiscent of classical works, although musically there are no references to classical music. The title project splits into four sections,
Opening
and
Variations I-III
. The first intonation suggests an opening in the usual Big Band style. Dino's trombone, Franco's flugelhorn and Lorenzo Corsi's flute alternate in small solo interludes before the full harmonic unison of all instruments spreads pleasant goose bumps.
Variation I
opens the wide field of jazz with elements such as swing, bebop, harmonic interludes and the constant change not only in jazz style but also of the instruments. Franco's intention is to make the various sounds coexist and try to vary the colors, with an open eye to the tonal possibilities of instruments such as strings, apparently far from jazz.
In the second
Variation
, the strings first take the reigns before being joined by alto saxophone and flute. In this area, jazz approaches the classical orchestral and enters into a harmonic union.
Variation III
then stretches the arc into the realm of free jazz, which breaks away from conventional jazz. But this is only a moment of tension and soon the classic Big Band jazz gains the upper hand again.
On
Dreaming
Dino Piana (valve trombone) and Enrico Pieranunzi (piano) develop their own atmospheres always embedded in the great Big Band arrangement. With
Sunshine
the Italian musicians present their skills in straight ahead jazz, of course at all times in relation to the Big Band style.
Franco Piana wrote
Sketch of Colours
in collaboration of his nephew Lorenzo Corsi (flute). Insiders will recognize similarities with Bob James jazz works. This section of the album also opens up space for extensive solos and changing stylistic orientations. Some areas also remind me of the work of George Gershwin.
Final act of the album is
Blue Blues
which gives all musicians another opportunity to show their musical muscles.
Dino & Franco Piana Ensemble have put together a package with
Open Spaces
that will make the hearts of all jazz lovers beat faster.










Buy the album in all stores

Album Information

Title: Open Spaces
Artist: Dino & Franco Piana Ensemble
Year: 2020
Length: 49:46
Genre: Contemporary Jazz
Label: AlfaMusic

Tracks:

1) Open Spaces - Opening (2:12)
2) Open Spaces - Variation I (7:46)
3) Open Spaces - Variation II (5:45)
4) Open Spaces - Variation III (4:27)
5) Dreaming (4:44)
6) Sunshine (6:37)
7) Sketch of Colours - I Movimento (6:44)
8) Sketch of Colours - II Movimento (5:18)
9) Blue Blues (6:10)



Credits:

Dino Piana : trombone

Franco Piana : flugelhorn

Fabrizio Bosso : trumpet

Ferruccio Corsi : saxophone, alto

Max Ionata : saxophone, tenor

Lorenzo Corsi : flute

Enrico Pieranunzi : piano

Roberto Gatto : drums

Giuseppe Bassi : bass

The Bim Orchestra (String quintet):

Marcello Sirignano: violin
Andrea Cortesi: violin
Mario Gentili: violin
Fabrizio De Melis: viola
Giuseppe Tortora: cello