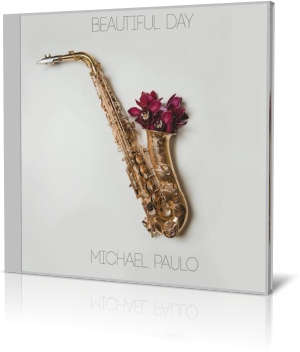 Saxophonist Michael Paulo has been involved with the beloved music for more than 35 years. During his period as sideman for singer legend Al Jarreau he released his debut album One Passion (1989). Soon followed Fusebox (1990), Save The Children (1994), My Heart And Soul (1996), Midnight Passion (1999), Sax For Christmas (2000), Beautiful (2006) and Michael Paulo with the Magenta Orchestra (2010).
After a long hiatus Michael returns with the new album Beautiful Day (2018). Michael has surrounded himself on the album with an exclusive group of musicians: Gregg Karukas, Kimo Cornwell, Brian Simpson, Tracy Carter (keyboards), Roberto Vally, Freddie Washington, Darryl Williams, David Inamine (bass), Gordon Campbell, Michael White, Land Richards, Sergio Gonzalez (drums), Paul Brown, Fred Schreuders, Paul Jackson Jr., Ray Parker Jr. (guitar), Lenny Castro, Ramon Yslas (percussion), David Benoit (piano) and Peter White (keyboards, guitar).
It is the bright moments that stay with us forever. Beautiful Day featuring Paul Brown on guitar provides us with the suitable background music for these lucky islands of life. Mister Magic (1975) was one of Grover Washington's most popular albums and often covered. Michael adds a sparkling funky note to his interpretation. The guitar solo of Fred Schreuders is a brainwave freshening the tune.
Carlos Santana released the song Europa on his album Amigos (1976). Among the interpreting artists are Gato Barbieri, Blake Aaron, Jimmy Sommers and Nils. Michael trusts in the pure beauty of the melody. Funky elements are currently very popular in smooth jazz. Michael gives a nice example with Back with the Funk.
Elton John set a monument to the pop ballad with Your Song (1970). David Benoit (Heroes) and Tom Schuman (Deep Chill) have already refined this song on their albums. Michael's interpretation shows the admiration for Elton John's work. By the way David Benoit plays the piano on this version. The dynamic Who You Gonna Call? is not the theme from GhostBusters, although smugly, Ray Parker Jr. plays Michael's composition too.
From the Heart is a love ballade with a swinging waltz rhythm for the best hours of your time. Fragile by Sting from his album ...Nothing Like the Sun is too good to pass it by. If you still Peter White can win for the part on the acoustic guitar, the whole thing is not to beat.
When you turn on the reverb, a piece often becomes atmospheric and dreamy. On Keiko's Groove Michael demonstrates what anything you can conjure up with this mood. Galaxia includes two components, funk and smooth jazz. Based on the funky rhythm layer Paulo develops his mellifluous theme.
Mysterious is defined as strange, not understandable, full of secrets. Michael gives the term a sonic garment that embraces everything that makes it. Fire Dance delivers a deceptively subtle balance of Latin flavor with guitar chords, timbales and cowbells, on which Michael succeeds admirably with smoldering notes. Peter White's Bueno Funk may be an inspiration for the bridge. Carol King's You've Got a Friend gives the album a very thriving final.
Beautiful Day is Michael Paulo's very personal summary of all the music that corresponds to his sense of beauty. Ideally, and I assume, it will meet the tastes of a large audience.




Buy the album in all stores

Album Information

Title: Beautiful Day
Artist: Michael Paulo
Year: 2018
Genre: Smooth Jazz
Label: Independent

1 Beautiful Day 4:31
2 Mr Magic 5:28
3 Europa 4:53
4 Back with the Funk 4:42
5 Your Song 5:07
6 Who You Gonna Call? 4:07
7 From the Heart 5:50
8 Fragile 4:43
9 Keiko's Groove 3:33
10 Galaxia 5:06
11 Mysterious 5:20
12 Fire Dance 4:20
13 You've Got a Friend 4:22