Ron Otis Up Front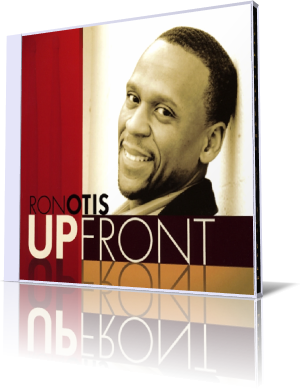 Drummer Ron Otis is one of those sidemen, who unpretentiously stay in the background. He performed and recorded with Bob James (Urban Flamingo), Lin Roundtree (Sumthin' Good), Earl Klugh ( Spice of Life, Journey), Al Turner (Movin'), Brian O'Neal (Daisy), Justin Young (On The Way), Dave McMurray (My Brother and Me, Soul Searching, Nu Life Stories), Alexander Zonjic (Reach For The Sky) and a lot more.
Although his beat might be familiar to us, one has to work hard to find any biographical details about this gifted and modest musician. So let his music speak for him. Every album is a piece of personality and Ron Otis' debut album Up Front (2009) is no exception.
Many of those musicians, who shared his musical path, gave back to him their thankfulness with their tributes. Among those artists are Tim Bowman, Darryl Wakefield, Perry Hughes, Charles Scales, Bob James, Randy Scott, Earl Klugh, Dave McMurray, Rayse Biggs, Brian O'Neal and many more.
One should Take Time, listening to this album. The beauty of this album reveals after the first notes. Although the tune is melodious, Darryl Wakefield gives it a jazzy twist on soprano sax. Honestly, who can resist Tim Bowman's sizzling guitar performance?
No Stress is Ron's second advice, when he presents Charles Scales' breathtaking piano and Perry Hughes guitar runs. An up-tempo tune, perfect for a blessed drummer and his fast-paced beats.
With Up Front Ron goes on the big stage. Legend Bob James shows one of his rare piano solos, while Randy Scott on sax is the dominant instrumental factor of this track. Earl Klugh is the gladiator on the Latin-flavored tune St. Kitts, which is perfectly harmonized by Al McKenzie on keyboards.
Keyboardist Demetrius "Krayon" Nabors is another humble man who appreciates music, art, dance and any form of artistic expression. Don't Lose Hope is his co-composition together with Ron Otis. The groovy flow is delivered by Quentin Baxter's guitar, while Krayon creates this awesome melody.
The energetic Sunday Drive features saxophonist Randy Scott and his signature sound of multi-layered sax. Record producer, composer and musician proficient on all musical instruments, Randy Scott debuted in the top forty on the Smooth Jazz Charts in 2002 with his album Words Unspoken, his next album is long overdue.
Ron Otis wrote the sensual ballade I Adore You especially for his old friend Dave McMurray, who interprets this song with impressive passion. The mysterious Africa is always alluring with his enigma. Inside Africa lifts the veil of secrecy featuring Rayse Biggs on trumpet. His solo project For The Love Of It (2006) is available at exclusive shops in and around Detroit.
The jazzy Gospel God's Unchanging Hand shows Ron Otis' profound relationship to God and the Hope United Methodist Church, another part of his personality.
Ron Otis's debut Up Front is his first step to a solo career. With his melodious style of smooth jazz he might not follow the example of Art Blakey, Jimmy Cobb or Buddy Rich, but people always like a change.




Album Information

Title: Up Front
Artist: Ron Otis
Year: 2009
Length: 0:39:18
Genre: Smooth Jazz
Label: 4Drums Productions


Tracks:

01 Take Time [4:30]
02 No Stress [4:31]
03 Up Front [4:23]
04 St. Kiitts [5:02]
05 Don't Lose Hope [3:28]
06 Sunday Drive [4:06]
07 I Adore You [4:04]
08 Inside Africa [4:53]
09 God's Unchanging Hand [4:21]