Novello - B3 Soul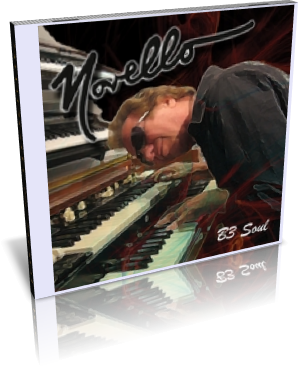 Do you remember James Taylor, Roger Smith, Stephen Pfister, Mauri Sanchis, Kimo Cornwell, George Mitchell, Rickey Peterson? All artists are playing the legendary Hammond B3. This is is the instrument for the ultimate jam. John Novello is also caught by the "organic" virus. Obsessed by this instrument he studied the music of Brian Auger, Keith Emerson, Joe Zawinul and more of these legends.
After moving to L.A. Novello had a big hit with the formation A Taste of Honey. Gigs followed with Donna Summer, Manhattan Transfer, Ramsey Lewis, Edgar Winter, Ritchie Cole, Chick Corea and more. Some of his solo albums are Always & Forever (2004)Threshold (2004), and Organik (2005). His album B3 Soul (2008), which is released on the nuGroove label, is a big party maker.
"It's always been my dream to be in a groove project such as this. I've been a B3 player all my life and I love burning or I wouldn't be doing it. You see, a long time ago I was bitten by the pocket groove bug!"
Starting from his earlier hit Novello requests Show Me The Honey. Novello pushes the keys and let it groove. With B3 Soul Novello connects to contemporary sound. Hip-hop beats are a top basement for the ultimate turn up. Don't miss Novello's video on YouTube.
Baila offers an awesome mixture of world music and some Latin flavor. The title The Groove Suite Theme associates a movie score, but it's the experience of a slowly creeping groove with an overwhelming effect. Novello takes you on a journey On The Way To Havana. A catchy melody with a Caribbean influence drawing you to the next dance floor.
On Candlelight drum machine and B3 are going into a pandemonium of sound. Liquid Soul continues the theme of B3 Soul with some alterations. Salt & Pepper begins with a simple groove but soon builds a great soundscape.
On Say You Like It Novello reveals Keith Emerson's influence. Apologize is featuring sax player Eric Marienthal. The mega hit was originally written by OneRepublic front man Ryan Tedder for the band's 2007 debut album Dreaming Out Loud. By the way Eric was announced to Chick Corea by his friend Novello and later member of Chick's band.
Irresistible tunes are also Feelin' That Beat, the funky Funny Money in the style of Pick up The Pieces or the cover of Al Green's Love And Happiness from the sensational 1972 platinum LP I'm Still in Love With You.
The album is closed with the two bonus tracks Transxpress, presenting the B3 as propelling machine and a great synth bridge with classic flair and The Message 2008, a contemporary version of Grandmaster Flash's huge hit from 1982.
Novello's album B3 Soul is Hammond B3 music sprawling around several genres. You get exactly what you await. Pure B3 fun.



Websites

Buy the album in

Title: B3 Soul
Artist: Novello
Year: 2009
Length: 1:07:55
Genre: General Jazz
Label: Nu Groove Records


Tracks:

01 Show Me The Honey [3:23]
02 B3Soul [4:02]
03 Baila [3:23]
04 The Groove Suite Theme [3:29]
05 One The Way To Havana [3:27]
06 Candlelight [3:35]
07 Liquid Soul [5:59]
08 Salt & Pepper [4:39]
09 Say You Like It [3:10]
10 Apologize [7:54]
11 Feelin' That Beat [3:53]
12 Funny Money [4:04]
13 Love And Happiness [5:08]
14 Transxpress [4:24]
15 The Message 2008 [7:28]