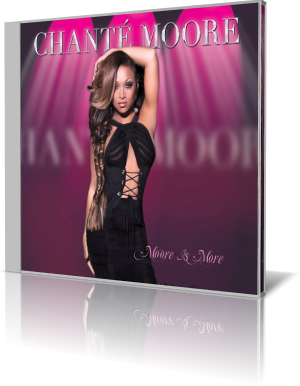 American R&B and jazz singer Chanté Moore is the daughter of a gospel minister. She was influenced by the jazz musicians George Duke and Lee Ritenour. She started her solo career with the debut album Precious (1992). Next releases were A Love Supreme (1994), This Moment Is Mine (1999), Exposed (2000), followed by the duet-albums Things That Lovers Do (2003) and Uncovered/Covered (2006) with her ex-husband Kenny Lattimore.
She continued her solo work with Love the Woman (2008), and this year Moore Is More. The starting song Baby Can I Touch Your Body was produced by Chris "Big Dog" Davis, which allows a direct comparison with Maysa's album Blue Velvet Soul. Chanté enshrines her alluring silky voice, which she makes so attractive. Also, the recording technique fetches the best out of her vocal ability.
Talking In My Sleep is created by the hit factory of Sam Watters and Louis Biancaniello (Jessica Simpson, Celine Dion, Anastacia). Alone sees itself as a hidden settlement with her ​​ex-lover. Crackles and other sound improvements don't hurt. Chanté's whistle register may not be missing here.
Don't Make Me Laugh is an outstanding song, which unfolds Chanté's vocal talents to full bloom. Fortunately, she waives all technical gimmicks. It's time to talk about those professional group that is particularly of importance among the older generation. On Doctor Doctor Chanté confronts us loudly with her demands alienated by Kwamé Holland in his very own style.
Mrs. Under, Stood is a collaboration with the producer Antwann Frost. Certainly a tune far beyond anything called jazz or soul. Don't be frightened by the sounds of On And On. It's the popular techno beat we know by artists like Rihanna. Greetings to My Umbrella.
We are reconciled with the sweet Giving You My Always. In the gospel song Jesus, I Want You Chanté expresses her love for Jesus. Although she understands this in a spiritual sense, the song has not found everywhere appeal. Final piece is Arthur Hamilton's Cry Me A River, a popular jazz standard, interpreted by Chanté as such. She uses straightforward accurately her vocal power to embody the sadness.
Moore Is More is difficult to classify. Chante's stylistic diversity is overwhelming. The common denominator is just her voice. Since tastes are different, everyone finds their very own favorites.




Biography

Website


Buy the album in all stores

Album Information

Title: Moore Is More
Artist: Chanté Moore
Year: 2013
Length: 0:42:36
Genre: General R&B
Label: Shanachie Entertainment

Tracks:

01 Baby Can I Touch Your Body [4:08]
02 Talking In My Sleep [4:03]
03 Alone [3:15]
04 Don't Make Me Laugh [4:48]
05 Doctor Doctor [2:58]
06 Mrs. Under, Stood [3:54]
07 On And On [4:18]
08 Giving You My Always [4:33]
09 Jesus, I Want You [5:42]
10 Cry Me A River [4:57]