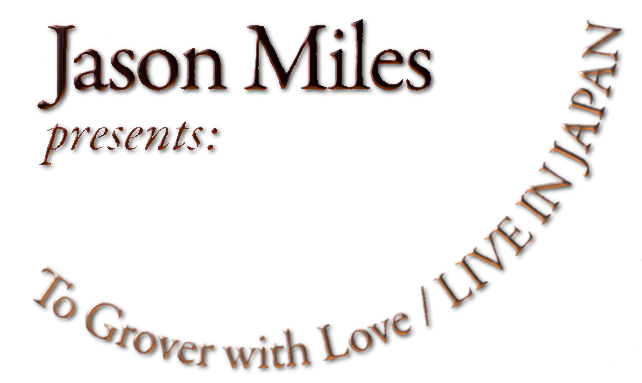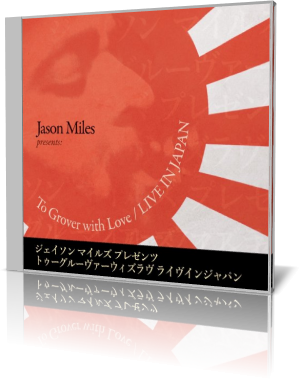 Having musical idols is something normal for a musician. To perform with most of them is fortune, grace and bases certainly also on the skills of the artist. Keyboardist, arranger and producer Jason Miles is the perfect example for such a lucky high talented guy.

He performed and recorded with Miles Davis, Luther Vandross, Michael Jackson, David Sanborn or Grover Washington Jr., to name a few. His intimate knowledge of these musicians has been reflected in numerous tribute albums.

But the music and the person of Grover Washington Jr. has especially not let him go. The homage albums To Grover with Love (2001) and 2 Grover With Love (2008) and the production of Grover Live (2010) come from his feather.

To Grover With Love / Live In Japan (2016) is the live recording of a concert at Blue Note Tokyo in June 2010. With Jason Miles performed saxophonists Andy Snitzer and Eric Darius, bassist Gerald Veasley, guitarist Nick Moroch and drummer Buddy Williams.

What makes this live album so special? The top notch performers, the carefully chosen selection of the best songs Grover has written and the excellent sound quality of the recording. Special guests on this album are singer Ryan Shaw and late percussionist Ralph Macdonald who produced several of Grover's albums and also has written some of his songs.

The event opens with the title song of Grover's chart breaking album Winelight (1980). Although a well-known piece it allows the musicians to unleash their creative personalities in fine nuances and solos. Especially the two accomplished saxophonists Andy Snitzer and Eric Darius pull off all registers of their prowess.

On Sassy Stew from Inside Moves the band strives for a more contemporary jazz approach in comparison to the original. The mellow Latin tinged Take Me There develops in this live version a contemporary jazz bliss with an extensive sax solo, above all expected quality.

Loran's Dance from Grover's album Reed Seed (1978) is a cover of Idris Muhammad's original featuring Grover on sax. At that time the style was designated yet as jazz funk. The live album offers an eclectic improvisational exploration with a great bass solo by Gerald Veasley.

Calling Just the 2 of Us a world hit is an understatement. Better describe the song as a world heritage. The live rendition featuring blessed singer Ryan Shaw and with the percussion of Ralph MacDonald under the baton of Jason Miles is just out of this world.

Black Frost from Grover's album Mr. Magic (1975) is disrespectfully considered by critics as commercial jazz. The original sounds first like a movie score of Isaac Hayes before Grover starts to improvise. The version on this album breathes new life into this tune. Especially the question and answer interplay between Miles, Moroch and the sax players shakes off the chains of notation by first and foremost emphasizing the aspect of improvisation.

Inner City Blues was the first track on Grover's same titled debut album (1972), a cover of Marvin Gaye's hit from the previous year. The roof-raising live version with both saxophonists in forefront is an incredibly entertaining ride. Let It Flow taken from the album Winelight is the ultimate platform for solos by bass giant Gerald Veasley, sax player Andy Snitzer and percussionist Ralph Macdonald in cooperation with Buddy Williams.

Final tune of this impressive live album is Mr. Magic. A showdown for all performers especially the compelling sax players by blowing the dust from their tenor saxophones.

To Grover With Love / Live In Japan sparkes an innovative fire with an intensity only legends can inflame. A stunning recording that truly transcends the contemporary jazz genre.




Buy the album in all stores

Album Information

Title: To Grover With Love / Live In Japan
Artist: Jason Miles
Year: 2016
Length: 1:11:39
Genre: General Jazz
Label: Whaling City Sound

Tracks:

1. Winelight 8:12
2. Sassy Stew 5:44
3. Take Me There 7:55
4. Lorans Dance 9:42
5. Just the 2 of Us 6:26
6. Black Frost 6:56
7. Inner City Blues 5:43
8. Let It Flow 12:21
9. Mr Magic 8:37