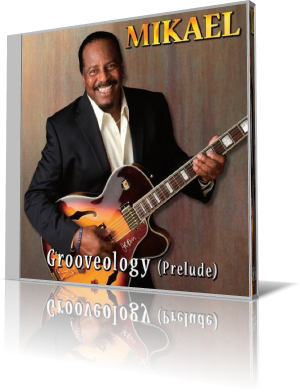 Grooveology is the science of groove. In this specific case an album dedicated to the groove. Dayton, Ohio guitarist Mikael Manley has released Grooveology (Prelude) in 2015.
The former member of the legendary group Commodores started his solo career in 2007 with the debut In Ya Pocket. With the sophomore album he shows that he is still in the music ring.
Multi-instrumentalist Mikael is supported by Thomas Dawson, Marque Walker, Cliff Mitchell and Andre Hoxter (keyboards), Donald Wright (bass), John Micalak (sax), and vocalists Joi (Giel) Branker, Rachel Ricca, Bo Henderson, and Ray "Ahmeer" Harrington.
Mikael introduces into his new album with A Mystical Journey. Free Ain't Free is the critical title of the melodious guitar flow generously shared with John Micalak's extensive sax excursion.
Without wishing to fall into platitudes, Highway 105 can be undoubtedly described as ear candy. It is noteworthy that Mikael doesn't try to stand out, but leaves the merits of the solo player others like the sax player. Smooth Love featuring Grammy Award Winner Barrington Henderson from The Temptations mixes elements of romance with R & B, classical guitar music with natural vocals to something outright charming and tender.
In Ya Pocket from Mikael's previous album adds funkiness to the album. Developing a new wine requires high professional skills. When Mikael calls the next song Nu Grape, testifies this self confidence but also the awareness of own creativity.
Dimelo transcends into dreamy fields of soundscape. All I Do was one of the numerous hits by Pop giant Stevie Wonder from his album Hotter Than July (1980). Often covered in the smooth jazz world for example by Kirk Whalum or Maysa Mikael offers a veritable version on this album. I Miss You is Mikael's collaboration with Thomas Dawson. As the keyboard player for The Commodores Thomas not only performs but co-produces for this legendary group. The result is impressive and I hope to listen more from both.
With joyful pulsating music Mikael underlines on Groovelogy (Prelude) his position as one of the genre's most compelling guitarist.




Album Information

Title: Grooveology (Prelude)
Artist: Mikael
Year: 2015
Length: 0:37:05
Genre: Smooth Jazz
Label: Mikael Musix Group


Tracks:
01 A Mystical Journey [1:25]
02 Free Ain't Free [3:41]
03 Highway 105 [4:39]
04 Smooth Love (Instrumental) [3:58]
05 In Ya Pocket [3:51]
06 Nu Grape [6:16]
07 Dimelo [4:27]
08 All I Do [4:08]
09 I Miss You (Remix) [4:40]





Further review: