Yukiko Matsuyama Crème Brulée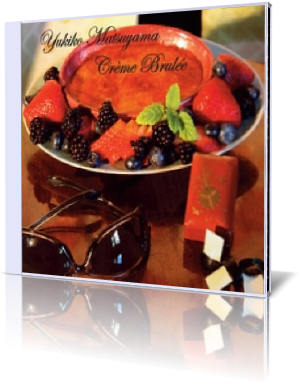 The koto, a 13-string zither or harp like instrument, originated in China and came to Japan in the 7th-8th century. Today, it is the national instrument of Japan. The koto isn't unknown in the world of smooth jazz. The most popular band with the koto as lead instrument is certainly Hiroshima.
Osaka, Japan born Yukiko Matsuyama was classically trained in this instrument from age 9. Since 1993 Yukiko lives in Los Angeles and was influenced by Western styles like jazz, new age, pop and world music. Although her music runs under the label world music, she is melting these styles with the traditional Japanese koto music.
Yukiko presents on her album Crème Brulée ten original compositions. She is supported by Diana Dentino (piano & keyboards), Greg Vail (sax & flute), Vince Van Trigt (bass), Mike Bennett (drums & percussion), and furthermore Daniel Mulliken (cello), David Brock ( violin & viola), Chris Darrow (guitar), Dave Wood (guitar), and Michael Kotzen (cajon).

Stimulated by her own self-effacing humor Yukiko introduces into her music with the title What Is Zat? Don't await scaring Asian hymns. Yukiko's instrument is integrated into smooth jazz and performed in a truly American style.
Nevertheless Yukiko doesn't neglect her heritage as one can hear on Kaze Matsuri (Wind Festival). At first that tune sounds like a traditional Japanese song, but then Yukiko gets infected by Mike Bennett propelling drums and percussion directing the whole piece to a new path.
On Talk With Dolphins the blessed artist presents a great scale of her instrument guiding us into a wonderful world of orchestral harmony. This is musical dreamland. In such way prepared we are ready for the uplifting Falling In & Out. Yukiko Matsuyama is not only a professional koto player but also shines with her enormous composing talent.
The ballade Nami underlines Yukiko's sense for sentimental melodies. New Direction creates a fantasy atmosphere with pastel-colored tones interjected by earthy beats. On If I Were There Greg Vail takes the lead on sax with an affectionate smooth approach. Greg's newest album Smooth Jazz Classics (2008) is available at CDBaby.
From Ancient times out of the dark of past could be this piece, on which Yukiko's koto meets David Brocks' violin in cozy accordance. Iketeru? features Diana Dentino in an exceptional piano solo, but the real surprise is Yukiko's dynamic jazzy treat of the koto.
I must admit my affinity for Crème Brulée. There has to be a place for pleasure too. A sweet title for a delicate tune.
Yukiko Matsuyama has prepared her Crème Brulée with great passion. This rich custard base topped with a contrasting layer of hard caramel consists of all sweets music has to offer.




Album Information

Title: Creme Brulee
Artist: Yukiko Matsuyama
Year: 2009
Length: 0:42:42
Genre: General World
Label: Independent
:

Tracks:

01 What Is Zat? [4:34]
02 Kaze Matsuri [3:28]
03 Talk With Dolphins [4:39]
04 Falling In & Out [5:33]
05 Nami [2:59]
06 New Direction [5:05]
07 If I Were There [4:49]
08 From Ancient [2:49]
09 Iketeru? [4:08]
10 Creme Brulee [4:39]