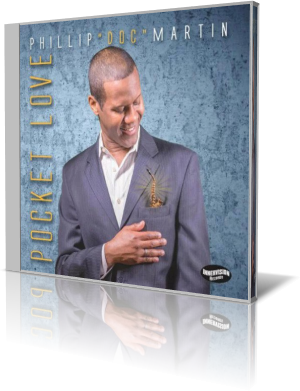 Quite rightly Philipp Martin is nicknamed Doc. He works in his day job as dentist in the Washington DC area. His second passion is music and as saxophonist he has already released several solo albums.

All started with his album Saxappeal in 2003. 2007 followed Pride and Joy, then Realization (2009), and Good Day at Work (2013). Pocket Love (2016) is his fifth album and was released on the label Innervision Records.

His new album was produced by Marvin Tony Hemmings, who also plays keys on all tracks. Additionally are joining the project on selected tracks Greg Boyer (trombone), Paul Brown (guitar), Frank Brunot (bass, guitar), Courtney Leonard (bass), Luc Derival (guitar), Kenny Kohlhaas (guitar, vocals), Jeff Lorber (drum programming), Eddie Montalvo (percussion), Roger Smith III (bass), Jay Williams (drums), Marlon Winder (flugelhorn, trumpet) and many more.

The album takes the run with Club Life featuring saxophonist Martin in the lead backed by a sonic horn arrangement and continuously ongoing stomping beat. With a youthful and vibrant character comes Pocket Love featuring Paul Brown in a luminous guitar solo.

Risky is to cover a piece of music history. Grover Washington Jr.'s Just The Two Of Us is pride and joy for every saxophonist. Phillip "Doc" Martin performs this tune with a brave heart. Black Shoebox by Tony Venturini walks gracefully on the borderline between smooth jazz and contemporary jazz.

With slightly flared tones Hip Today vibrates in our hearts. Even short pieces like Interlude are performed with love and have their place. A yearning promise, a hope in her voice, on Groove Love Martin sensitively wrapped sweet emotions in his saxophone.

Myriam Leger introduces with whispering French words into LA Nights, pure romance on sax. The charming mood continues on the next song Pardon Me. REM means rapid eye movements. REM Funk is the musical equivalent, a pulsating groove. Singer John Legend composed All of Me for his fourth studio album Love in the Future (2013). The emotional aura of this hit is captured impeccably by Martin.

On Pocket Love Phillip "Doc" Martin shines with great talent. Especially with keyboardist Marvin Tony Hemmings he can show what he's got.




Album Information

Title: Pocket Love
Artist: Phillip "Doc" Martin
Year: 2016
Length: 0:40:16
Genre: General Jazz
Label: Innervison Records


Tracks:
01 Club Life [3:44]
02 Pocket Love [3:13]
03 Just The Two Of Us [3:06]
04 Black Shoebox [4:01]
05 Hip Today [3:33]
06 Interlude [1:40]
07 Groove Love [3:39]
08 LA Nights [4:15]
09 Pardon Me [4:38]
10 REM Funk [3:30]
11 All Of Me [4:59]