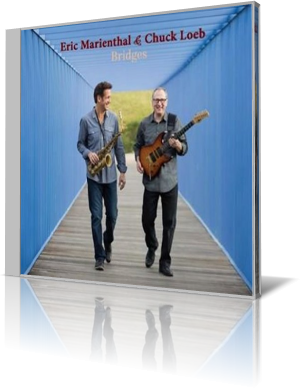 Saxophonist Eric Marienthal and guitarist Chuck Loeb are both veteran musicians of the smooth jazz and contemporary jazz world. Who should do the extra work to count their albums, will have a Sisyphean task. Both have performed or written on more than 50 singles in the top ten smooth jazz charts.
Although both have shared stage on many events and also played on albums together, Bridges is their first joint venture. The album starts with the dreamy Westward. With pizzicato guitar strings and soprano sax Eric and Chuck create a sound atmosphere in soft shades.
The romantic Crossing features Byron Landham, John Patitucci & David Charles. This tune will be the first single of the album. Chuck Loeb has long been a soft spot for the Spanish music. This he lives entirely on Puentes.
With Last Minute Blues the duo gives us a lesson in jazzy blues. Daily Bread has something meditative, relaxing, dreamlike. A calming influence. Lucky Southern allows to swing the balance to contemporary jazz. With upright bass, brushes on the snare, Eric's mellow soprano sax intonation like a clarinet and Chuck Loeb in the style of Django Reinhardt all sounds perfect and genuine.
Although the next song is entitled Salamanca the piece has no Spanish inspiration. It has a strong shot of contemporary jazz with a lot of room for improvisation. On Duality Marienthal doubles his efforts as leader on sax in a horn arrangement. With Sun Rays the duo finally reached the jazz realm with soprano sax improvisations by Marienthal in bebop style.
The last tune is entitled Noir obviously alluding to the film music of the classic film noir. Also called crimejazz this genre was provided with the attributes dissonant, expressionist, hard-edged. The duo mirrors the atmosphere of the 50's with great empathy and knowledge.
Bridges is not just another collaboration project of two experienced jazz musicians. Between both exists a chemistry and mutual understanding with which they have created something great beyond the known genres, where this double act normally performs.




Biography

Website Chuck Loeb

Website Eric Marienthal


Buy the album in all stores

Album Information

Title: Bridges
Artist: Eric Marienthal & Chuck Loeb
Year: 2015
Length: 0:53:43
Genre: General Jazz
Label: Shanachie Entertainment


Tracks:
1. Westward (06:04)
2. Crossing (04:47)
3. Puentes (05:40)
4. Last Minute Blues (06:42)
5. Daily Bread (03:28)
6. Lucky Southern (05:58)
7. Salamanca (05:53)
8. Duality (04:51)
9. Sun Rays (05:50)
10. Noir (06:11)