Main Gazane Tit for Tat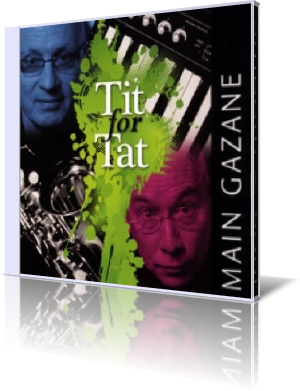 Main Gazane is a jazz term, which is so seldom used that I even couldn't Google it. Well, Main Gazane means main man or main thing and that's the reason why Mark Minchello and Bob Magnuson chose the name for their band.
The group had appearances in the smooth jazz world with their albums Lightening Strikes (2004), Imagine (2007) and Hip Space (2007). Already in 1985 Main Gazane signed a record contract with John Hammond Records. This was the same John Hammond who had previously signed Bessie Smith, Billie Holiday and Bruce Springsteen. CBS had given Mr. Hammond his own label after four decades of success.
The first album never reached daylight, because the only Contemporary Jazz radio station in New York changed to Country music overnight with no warning and the record label folded. Today's many smooth jazz radio stations have changed their format, but musicians are still releasing music in this genre.
Probably radio stations have lost their importance for the music market or is it the courage born of desperation? Anyway, Main Gazane have just released their new album Tit for Tat (2010). The album was created by Mark Minchello (piano & Keyboards) and Bob Magnuson (sax, woodwinds & wind synth) and the additional musicians Brent Carter (vocals on Rock Steady) and Kenny Davis (bass). With the exception of three covers Mark has written all compositions.
The album starts with a cover of Rock Steady, a song Babyface had penned for The Whispers (1987). Edmonds looked at a keyboard stand called Rok Steady and decided to make that the title of the song. Main Gazane conjure good old time and created this awesome rendition.
On The Jokes On You Bob Magnuson shows all variations of his saxophone artistry. Billy Ocean's mega hit Caribbean Queen (1984), also known as African and European Queen, is interpreted in a groovy and elegant way.

Tit for Tat is an English saying meaning "equivalent retaliation". Main Gazane's title song is a good platform for both musicians to expand her skills. This tune sparkles joy and pleasure.
Rose Royce's Wishin' On A Star is perfectly covered by the group. Bob Magnuson replaces the vocal part with his emotional sax interpretation. Walk In The Meadow is a great example for the attractive interaction of Bob and Mark. The experienced musicians are really masters of their instruments.
For Wilbert is another play ground, on which Bob stretches his sax through the octaves. A Quiet Place has a typical Paul Hardcastle twist. And yes, there is Funk in the house. Funk You is the group's invitation to sway.
Keep It Right There swings in the style of the 70's. The time, when Smooth Jazz was still called Quiet Music. But the group has also an open heart for contemporary music like on Chill Factor and Electronica like on Lowtronix, always with the group's own necessary distance. Only the groove counts. The Gazane is the final recall of the Funk.
With Tit for Tat Main Gazane claim and proclaim their own kind of view of contemporary jazz. This is the freedom of independent music.




Album Information

Title: Tit For Tat
Artist: Main Gazane
Year: 2010
Length: 0:49:41
Genre: Smooth Jazz
Label: NOHO Records


Tracks:

01 Rock Steady [3:46]
02 The Jokes On You [3:37]
03 Caribbean Queen [3:38]
04 Tit For Tat [4:06]
05 Wishin' On A Star [4:46]
06 Walk In The Meadow [3:33]
07 For Wilbert [3:42]
08 A Quiet Place [3:39]
09 Funk You [3:41]
10 Keep It Right There [3:24]
11 Chill Factor [3:44]
12 Lowtronix [4:00]
13 The Gazane [4:05]