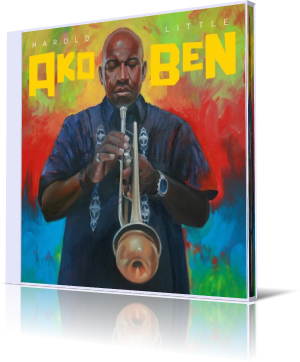 DC area trumpet player, songwriter and producer Harold Little debuted in 2009 with the EP Daddy's Groove. Harold incorporates on this album Funk undertones with a hint of Go-Go Swing. His sophomore album Akoben (2017) is a testimony of his African roots in a multicultural diversity.
Akoben is the title of an African war horn, a symbol of vigilance and wariness. Harold performs on this album trumpet and flugelhorn. He is joined by Bruce Williams (alto saxophone), Jamal Brown, Y. C. Laws (flute), vocalists Heidi Martin, Karen Linette, the choir: Keena Chew, Brittney Ford, Brandon Ford, Angela Ford, Kristin Johnson, keyboardists Keith Exum, Vince Evans, Leroy "Scooter" Taylor, guitarist Tony Cothran, bassists Adrian "Egg" Norton, Kris Funn, Rodney "LRod" Lewis, drummers Arvell "Cloudy" McLeod, Dwayne "KIGGO" Wellman, Mark Steward and percussion players Milton "GoGo Mickey" Freeman, Leroy "Boogie" Greer, Danar "Nicky Barnes" Gorham.
With the exception of two covers Harold Little has written, arranged and produced all songs. East Of The River starts with a heavy bass handing over to Harold on muted trumpet who's finding a funky outlet for his inner voice. You Don't Know What Love Is is a jazz standard written by Don Raye and Gene de Paul for the Abbott and Costello picture Keep 'Em Flying (1941). This song was covered by all great jazz artists, the world knows, from George Benson to Ella Fitzgerald. Featured vocalist on this interpretation is Heidi Martin, who embraces the song with great empathy.
Saxophonist Paul Desmond composed Take Five, the biggest hit of the Dave Brubeck Quartet. Harold Little gives this well known jazz standard with his unique trumpet sound a new face. With Before the Storm Harold creates sophistical sound paintings using flute and percussions with light lines, before the trumpet gives the signal for things to come. Akoben, a natural force of African sounds in the style of Fela Ransom Kuti impresses with a harmonic heartbeat of discovery and adventure.
On Step Harold presents his equally vivacious and tender trumpet in an vibrant ensemble with African heritage. What smells like Stanky Weed? Low quality marihuana? Little kicks open the spiritual door to the horn underground. The Gospel song We Need Love features songstress Karen Linette who spreads the magic with a mighty choir. Stomp the Roaches is close to the ground and looking at the crowd's mouth. A popular sound coming from the people.
I Thought You Knew is a creation by keyboardist Keith Exum & bassist Adrian Norton. Bells, organ, drums and on top Harold's trumpet, a happy place of retro funk. The instrumental version of You Don't Know What Love Is radiates a melancholy and sadness which seeps into the keyboard keys and is dripping from the edge of the trumpet. Let's Walk rolls out the red carpet for jazz fusion in its pure format.
Akoben is Harold Little's conscious and self-confident answer to all doubters. No going down on bended knee for the audience but honest to the core.





Buy the album in all stores

Album Information

Title: Harold Little
Artist: Akoben
Year: 2017
Genre: Contemporary Jazz
Label: Independent


1. East of the River 3:57
2. You Don't Know What Love Is 4:01
3. Take Five 4:22
4. Before the Storm 1:01
5. Akoben 4:50
6. Step 3:31
7. Stanky Weed 4:40
8. We Need Love 3:59
9. Stomp the Roaches 3:51
10. I Thought You Knew 3:55
11. You Don't Know What Love Is (Instrumental) 5:26
12. Let's Walk 6:38