Terje Lie Urban Vacation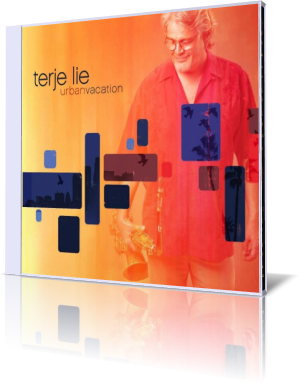 Norwegian native Terje Lie decided to move to the U.S. like many other European musicians because of Europe's cultural music desert, when it comes to smooth jazz or contemporary jazz. His decision was right on the money.
"It's great to look back and think about all the different styles of music I've played and the wide variety of places I have performed in my life," Lie says. "When I'm on stage performing or recording music in the studio, time disappears."
Saxophonist Terje Lie started his solo career with the album Traveler (2007) featuring contemporary jazz greats Jimmy Haslip and Jeff Lorber. "Jeff and Jimmy enlightened me to many new angles and concepts that made this a fantastic experience for me. It's been a great thing to record with them and the result is a seriously kickin' album!"
Understandable that his sophomore album Urban Vacation (2010) was produced and performed by the same successful duo. Besides these musicians plays Tony Moore most of the drum parts. Additional guest-musicians are Mike Landau (guitar), Sharon Perry (vocals), Ernest Tibbs (bass), Jeff Olson (drums), Dwight Sills (guitar), Gary Meek (sax), and Ron King (trumpet).
Bail Out reveals immediately the image of Terje's project: Modern contemporary jazz with a melodious touch. Rich horn arrangement fill the song with voluminous jazz and Terje's bassy scat is the icing on the top.
Crazy Groove features Terje's explosive and vibrant sax best surrounded by Jeff Lorber's Rhodes, Jimmy's bass and the fantastic horn section. To be honest, that really sounds like Jeff Lorber's Fusion.
On Dance On The Water Jeff Lorber presents a special synthesizer solo followed by Mike Landau's glittering solo on electric guitar and finally Terje's brilliant sax solo. What do you want more?
Some retro groove on Blue Funk. Jeff's supreme treat of the Hammond B3 and Terje's pulsing sax solo are highlights of this tune. This band will jam around the globe. Sedona marks the romantic line signed by Lorber. Anew adds Mike Landau fine acoustic guitar moments.
Pushed by Tony Moore's pulsing beat Red Black And Green quickly picks up speed for Jeff's breathtaking Rhodes piano solo, while Sharon Perry intonates the title like an incantation. Let Jimmy Haslip's bass speak and Jeff Lorber's keyboard sing and Terje's sax swing. Call So Retro your favorite.
Do you like Weather Report? Than listen to Coral Dream. These cats can really jam. Incredible. As an encore Parlophone takes the same line. Final tune is the melancholic Tonight. Terje Lie draws the moody card and wins.
Terje Lie's Urban Vacation is Contemporary Jazz at its best. I especially like the balanced interaction of the whole band. Terje avoids to expose his instrument and that makes the album to a homogeneous pleasure.




Buy the album at Amazon or iTunes

Album Information

Title: Urban Vacation
Artist: Terje Lie
Year: 2010
Length: 0:43:09
Genre: Contemporary Jazz
Label: TCat Records


Tracks:

01 Bail Out [4:52]
02 Crazy Groove [4:28]
03 Dance On The Water [3:46]
04 Blue Funk [3:35]
05 Sedona [4:49]
06 Red Black And Green [4:34]
07 So Retro [4:43]
08 Coral Dream [4:05]
09 Parlophone [4:07]
10 Tonight [4:11]