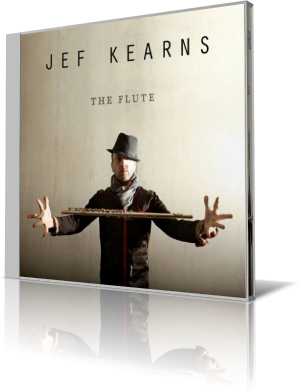 Toronto based flautist Jef Kearns started his solo career with the album On the Level (2009), followed by Soulfisticated (2013) and this year The Flute.

Jef Kearns created this EP with several producers, who played all the other instruments. That explains the nature of his music, which is consistently detailed but also meticulously planned.

The flute is considered as the shyest instrument. Although it takes the most amount of air under the instruments next to tuba, the tone is overall warm, heartfelt and lovely. Its expressiveness is celebrated in the hands of masters like Nestor Torres, Alexander Zonjic, Ragan Whiteside, Dwayne Kerr or Najee.

Hazy takes a promising start with a balanced and beautifully tuned instrumentation. Producer Timian shows a pronounced sensitivity and empathy in creating the perfect soundscape to let Jef shine on his lead instrument. The hip hop rhythm however stands in contrast to the subtle sound arrangement.

The combination of hip hop beat and flute is obviously intended as Jef demonstrates on Hurricane, on this EP presented as Cyclonic Mix. Responsible is Ghana born award-winning producer, multi-instrumentalist and composer Kobčna Aquaa-Harrison. He is known for his "audio decoding of African DNA". A sophisticated sound arrangement that is close to perfection, meets hip hop and is swirled by rock guitar sound.

Soulfisticated is taken from Jef's same titled second album, which was bathed in benevolent reviews and radio spots. Jef blesses the audience with an extended version of more than eight minutes. Toronto based producer John Campbell, who has made a name in the music world with the CD Soul Impressions, builds with synth bass, orchestral hits and snare drum beat a techno-like sound environment, in which Jef can act out with improvising approaches. The tune gets a lyrical touch, when John supports harmoniously with violins, Rhodes and piano Jef's charming flute exploration.

A piece of music should be regarded as an artistic synthesis. On Lavender Jef Kearns transcends to a dreamlike grace on the flute, while the programmed drum beat isn't a rhythmical challenge. The album finishes with a vocal version of Hazy featuring singer Karen Jewels, a golden voice in the worlds of hip-hop soul to alternative to rhythmic electronic music and spoken word.

The Flute is a sonic revelation. A manifest creative breadth of an instrument, which is rare in this field of music.






Album Information

Title: The Flute - EP
Artist: Jef Kearns
Year: 2016
Length: 0:23:42
Genre: General R&B
Label: Soul Breeze Records


Tracks:
01 Hazy (Instrumental Flute Mix) [3:24]
02 Hurricane (Cyclonic Mix) [3:40]
03 Soulfisticated (Extended Cool Out Mix) [8:34]
04 Lavender (2016 Mix And Master) [4:41]
05 Hazy (Featuring Karen Jewels) [3:23]


K. McDonald, T. Baikebov, J. Kearns


produced by Timian



Hurricane (Cyclonic Mix)


J. Kearns/K. A. Harrison


produced by Kobe Aquaa Harrison



Soulfisticated (Extended Cool Out Mix)
J. Kearns/J. Campbell


produced by John Campbell



Lavender


J. Campbell/J.Kearns


produced by John Campbell



Hazy (feat. Karen Jewels)

K. McDonald, T. Baikebov, J. Kearns


produced by Timian


Mixed by Douglas Romanow (Noble Street Studios)

Mastered by Tom Coyne (Sterling Sound)