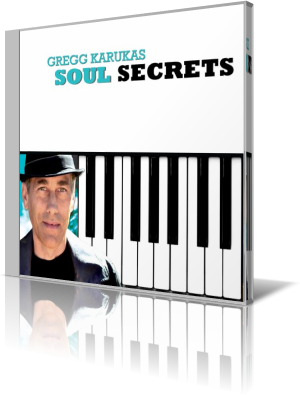 So often you can admire Gregg Karukas as a live musician, so rare are the releases of his albums.
Gregg comments: "I have struggled with the time and energy to make the best music possible, given my other productions, family matters and touring schedule. I chose to release Soul Secrets indie (under my own label Nightowl Records, which owns all but 3 of my 12 solo releases) because it is the right time for this and it is better for the integrity of the project. This is the trend that is a very positive thing for artists and fans, thanks to the internet.″
The project was worth it. The CD is packed with 14 original compositions. Supported by Rick Braun, Euge Groove, Vincent Ingala, Ricardo Silveira, Michael O'Neill, James Harrah, Adam Hawley, Eric Valentine, Nate Phillips, Charlie Bisharat, Luis Conte, Shelby Flint and Ron Boustead this is a win-win situation.

In the beginning more gospel later more jazz Gregg introduces into Do Watcha Love on his vintage Wurlitzer Electric Piano featuring the bluesy style of guitarist James Harrah and the funky Vincent Ingala on sax.
Soul Secrets has all the ingredients of a smooth jazz classic. For Gregg this tune is a tribute to the great Brazilian group Azymuth and with the immaculate sound of Rick Braun's trumpet all lights are on green. On Gk's Funky Joint Gregg invites sax player Euge Groove to a shuffle song. With the Wurlitzer under his hands all things have a positive impact.
The adjective elegant is used frequently, particularly in smooth jazz. Is it not close, to write the accurate song with Elegant Nights? The Latin flavored Rio Drive joins seamlessly. Only You remind me very much of the style of music of the late George Duke. The groovy Snack Shack is the result of a sound check at Spaghettini. Starting with a melody line on Gregg's Rhodes piano the song expands to a typical jazz exploration.
The Latin jam Café Agogo lives from Luis Conte's vivid percussion. With Gregg's easy piano flow and a punchy horn arrangement Salsa and Samba shake hands. The smooth ballade Secret Smile opens the door to starry atmosphere with intimate sax sound. Above the Clouds presents the world music and new age side of this great keyboardist, who also performed with Omar Akram and David Lanz. Silveira's nylon string guitar and Charlie Bisharat's violin contribute the certain flavor.
On Walking On Air Gregg takes a popular chord and covers it with his own musical idea. Sometimes it is sufficient to play accented notes to find the right groove. This method uses Gregg for Told You Twice, a retro action with Adam Hawley on electric guitar. Randy Heads Uptown is the musical interpretation of a true tale of a rambunctious New York City rat, that freaks out the passengers in the subway. A bass driven up-tempo piano run. With the final tune Time Alone (For Ty Malone) Gregg returns to the new age realm. A gentle ballad with a lot of heart.
With Soul Secrets Gregg Karukas reminded me why I love his music so passionately. Hopefully it lasts until the next album not so long.




Album Information

Title: Soul Secrets
Artist: Gregg Kaukas
Year: 2014
Length: 0:57:06
Genre: General Jazz
Label: Gregg Karukas


Tracks:
1. Do Watcha Love 5:15
2. Soul Secrets 4:18
3. Gk's Funky Joint 5:05
4. Elegant Nights 3:52
5. Rio Drive 4:54
6. Only You 4:46
7. Snack Shack 5:12
8. Cafe Agogo 5:13
9. Secret Smile 6:25
10. Above the Clouds 5:27
11. Walking On Air 5:17
12. Told You Twice 5:07
13. Randy Heads Uptown 5:12
14. Time Alone (For Ty Malone) 4:57




Further reviews: