Marcus Johnson – Poetically Justified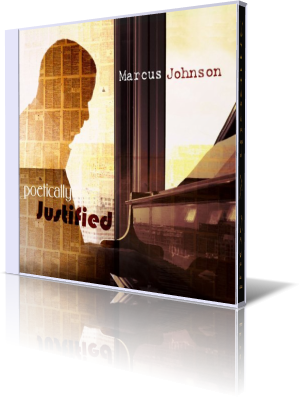 When we have to define the term entrepreneur in the smooth jazz genre, comes one person immediately in mind. Marcus Johnson is the musician with the greatest need and field of activity. He founded with businessman Robert L. Johnson the label Three Keys Music signing artists like Bobby Lyle, Jaared, Michael Lington, Joey Summerville, Nick Colionne and others.
He established the full-service recording studio, Studio 8121, where he also teaches music seminars. He has been morning host on Washington, DC's Smooth Jazz 105.9. He teaches a music business development course at Bowie State University. Beside these activities he released fifteen albums while constantly touring the States and abroad.
On his new album Poetically Justified he invited musicians like David Dyson (bass), Marcus Anderson (EWI/vocoder, synthesizers), Stanley Cooper (guitar), Maysa (lead vocals) and many more.
The European chill out-style has started its triumphal march to the States. No wonder, that Marcus begins his album with the song Chillaxin. Marcus introduces the theme with some piano notes, then Freddy "Boom Boom" Moses lets the drum programming flow with chilling bongo and Tablas beats. He takes over the theme on synthesizers, modulating it in his multiple facets.
The Italian word Capice has obviously a magical influence on Marcus. It stands in the center of the raving song featuring the incredible singer Miles Jaye, who has the same bass timbre like the legendary Barry White. Marcus Anderson defamiliarizes the vocals with his vocoder in pursuit of Marcus Johnson's groove.
I See You walks deep into the realms of R&B with Urban beat, vocoderized vocals and Najee, positioned right in between the move. I personally prefer the signature vocals of songstress Maysa. The great queen of soul sings Master Of My Heart, a ballade about the adored man. The central theme of her life.
I recently listened live to Dannis' Song by Marcus Johnson on the German Smooth Jazz Festival in Munich, where I also met him in person. With David Dyson on bass and Najee on sax the album version is significantly better.
On Say Yes Marcus continues some notes of the previous melody, before he changes it into an intimate ballade. Vocoder or Auto-tune, the song has a great R&B flavor. With perfect nuances Marcus tickles the keys on In The Moment. Every note is emphasized and has a straight effect, simply captivating.
Stand By Me is not a cover of the famous song but a same named composition of Marcus Johnson with melodious softness. Marcus Anderson performs a silky sax. Although a capitol jazz challenge winner he is still one of the best kept secrets of smooth jazz. When Marcus Johnson plays Ellicott City live, his performance is simply amazing. Always a piece for great improvisation.
Cherish The Journey showcases pianist Marcus Johnson in all his perfection. His attack is subtle, brilliant and just at the point. Michael Jackson's This Place Hotel is a more funky approach to his style. Anew David Dyson underlines his position at the top of smooth jazz bass players. You can often listen to his bass on Pieces of A Dream's releases.
John Legend's Used To Love You about the faded love to a beloved but to expensive woman is auto-tuned and integrated into Marcus' excellent piano performance. More Soul with Maysa on the fabulous Hold On. Robbie McDonald is the blessed wizard of keys and synthesizers.
The album is closed with the final appearance of singer Miles Jaye, known as the singing cop of the Village People, absolutely impressing with Heaven. No wonder, that Teddy Pendergrass was his mentor.
Poetically Justified is certainly one of Marcus Johnson's best albums. This balanced combination of r&b, soul and smooth jazz is irresistible and appealing.




Marcus Johnson - Websites



Buy the album




Album Information

Title: Poetically Justified
Artist: Marcus Johnson
Year: 2009
Length: 1:06:04
Genre: General Jazz
Label: Three Keys Music


Tracks:

01 Chillaxin [4:29]
02 Capice [4:46]
03 I See You (Featuring Najee) [3:26]
04 Master Of My Heart ( Featuring Maysa) [3:41]
05 Danni's Song [5:58]
06 Say Yes [4:45]
07 In The Moment [4:26]
08 Stand By Me (Featuring Marcus Anderson) [6:05]
09 Ellicott City [4:47]
10 Cherish The Journey [5:48]
11 This Place Hotel [5:27]
12 Used To Love You [3:29]
13 Hold On (Featuring Maysa) [4:05]
14 Heaven [4:50]