Jamhunters - Music Speaks Louder Than Words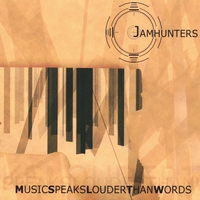 A fresh wind is blowing from Scandinavia. Jamhunters are on the run. Coming from Denmark Lars Fabiansen (guitar) and Peter Michael (keyboards) define smooth jazz in a new way. Both are experienced and acclaimed musicians. The first product of their collaboration was in 2006 the debut album Jamhunters followed by their new album Music Speaks Louder Than Words (2008).
Participating musicians on the new album are Hans Ulrik (sax), Klaus Menzer (drums), Christina Boelskifte (vocals), André Sørensen (bass), Bo Fabiansen (drums), Claus Suhr (percussion) and Moussa Diallo (bass). Further guest musicians are Chris Minh Doky (bass) and Frank Senior (vocals), both from New York. "We ran into Frank in New York last autumn. We were there to play a few club gigs and accidentally heard Frank humming to a live band. We simply had to persuade him to work with us on our next album", says Lars from Jamhunters.
The smooth jazz cruise arrives at The Pier. The fluffy stomping tune reveals uplifting mood and sunshine moments. Get on the dance floor.
Incredible is the right title for Lars Fabiansen's work on guitar, Peter Michael's wizardry on keys and the magic of Hans Ulrik's performance on sax. The tune is in good tradition of European lounge in the style of US3 and St. Germain.
Room For Milk shows more of Lars' heritage, George Benson and Wes Montgomery are certainly his idols. He has this certain elegant groove, we love so deeply. Christina Boelskifte's humming is an awesome frame for the guitar sound.
On the ballade No One Like You Christina has more opportunity to mesmerize the audience with her silky and warm vocals. We are Paralyzed by Moussa Dialo's bass. Moussa, who lives in Denmark, is not only a professional bass player but a splendid story teller. Listen to his African roots in the music.
The soulful One More Minute presents the great singer Frank Senior. Frank blind from birth, is a native New Yorker and was raised in Harlem, where jazz played a major role in his musical career. His style of music is jazz, blues, standards and gospel, ranging from the 1930s to the present. His flabbergasting vocals remind me of singer legends like Barry White, Luther Vandross or Joe Lucien.
Obviously inspired by Herbie Hancock's Cantaloupe Island or US3's Flip Fantasia Shoot sets the groove in motion. The Hammond B3 sound gives the tune that heavy retro drive we like. The relaxing Lazy features anew Christina Boelskifte's gracious vocals.
Don't await behind Eurabian Fantasy something with an oriental appeal. This tune is right in the mix with European ingredients of the finest music. Music Speaks is Jamhunters' philosophy. Wes Montgomery played In Your Own Sweet Way and Lars Fabiansen captures this mood of a late sunny afternoon.
To get you an imagination of this guitarist I would compare him with Zachary Breaux or Ronny Jordan. Tah-Two is a good example of this groovy style with ease.
Since Steve Wonder's Superstition is the clavinet a popular instrument, although Hohner unfortunately stopped the production. On Practisin' Peter Michael delivers a fantastic intro on this historical keyboard. The shuffle beat is a strong ground for Lars' guitar exploration.
Chill out with Jamfadin', a sensitive journey into the world of dreams. The album is closed with a radio-edited version of One More Minute featuring the sensationel Frank Senior.
Music Speaks Louder Than Words is from start to finish a great smooth jazz album. A project of professionals who know their work. A pleasure for all listeners.





Title: Music Speaks Louder Then Words
Artist: Jamhunters
Year: 2008
Length: 1:02:53
Genre: General Jazz
Label: Gateway Music


Tracks:

01 The Pier [4:16]
02 Incredible [3:55]
03 Room For Milk [4:19]
04 No One Like You [4:15]
05 Paralysed [4:51]
06 One More Minute [4:48]
07 Shoot [4:55]
08 Lazy [5:03]
09 Eurabian Fantasy [3:58]
10 Music Speaks [5:46]
11 Tah-Two [4:10]
12 Practisin' [4:55]
13 Jamfadin' [4:17]
14 One More Minute (Radio-Jam) [3:23]