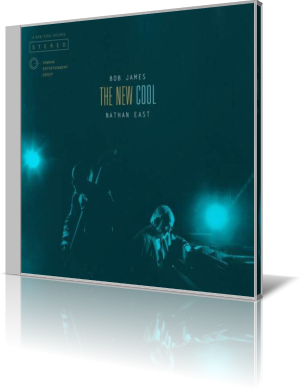 Play what you want! That could be the request to Bob James and Nathan East by Yamaha Entertainment Group label president Chris Gero. A studio full of Yamaha equipment and two legends to work with.
The New Cool shows an intimate duet between pianist Bob James and Nathan East on acoustic bass. Improvisation and melodic essentials are weighted equally. Oliver's Bag helps the swing on the legs. Nathan's acoustic bass is very present, you can hear the vibration of each string.
On All Will Be Revealed both play with different stylistic elements. Instrumentation, orchestral strings by the Nashville Recording Orchestra and Nathan's celestial vocals are woven into a captivating whole.
Midnight Magic/Love Me As Though There Were No Tomorrow is designed to be a casual jazz medley. Vincent "Vince" Grant Gill is a constant in the field of country music rewarded with numerous Grammys. He is the singer of Willie Nelson's Crazy, which comes with a strong orchestral embellishment.
How Deep Is The Ocean leads us into the depths of human abysses, which are reproduced by Bob sensitively to the keys in all melancholy. Canto Y La Danza (Song and Dance) delivers an extensive rhythmical moment with percussionist Rafael Padilla and drummer Scott Williamson, which Bob and Nathan ideally complement.
Waltz For Judy recalls a romantic infatuation in the style of Chopin with some orchestral sugar. Seattle Sunrise brings another dream conversion, on which piano and bass merge with the certainty of a sleepwalker on the path of ancient archetypes.
Of all the pieces Ghost Of A Chance shows the most extensive symphonic implementation. Gershwin's An American in Paris comes to mind. Jazz and classical music can be reconciled as Turbulence clarified.
Combining the best of the past while still exploring new and uncharted territory, is Bob James' motto. With his companion Nathan East he remains true to this habit on The New Cool.




Biography

Website Bob James

Website Nathan East


Buy the album in all stores

Album Information

Title: The New Cool
Artist: Bob James & Nathan East
Year: 2015
Length: 0:53:43
Genre: General Jazz
Label: Yamaha Entertainment


Tracks:
01 The New Cool [7:09]
02 Oliver's Bag [5:08]
03 All Will Be Revealed [4:33]
04 Midnight Magic/Love Me As Though There Were No Tomorrow [5:15]
05 Crazy (Featuring Vince Gill) [5:04]
06 How Deep Is The Ocean [4:35]
07 Canto Y La Danza [5:06]
08 Waltz For Judy [3:27]
09 Seattle Sunrise [4:11]
10 Ghost Of A Chance [5:24]
11 Turbulence [3:51]