Paul Jackson Jr. - Lay It Back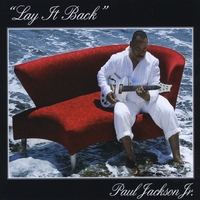 Paul Jackson Jr. is worldwide the first-call and most wanted session guitarist. His performance is recorded on more than 1.000 albums, among those Michael Jackson's Thriller and Bad. Further artists he played with are Luther Vandross, Quincy Jones, Steely Dan, Elton John, Whitney Houston, Celine Dion, Madonna, Rod Stewart, Barbara Streisand and some hundreds more.
His solo albums are I Came To Play (1988), Out of The Shadows (1990), River in The Desert (1993), Never Alone: Duets (1996), Power Of The String (2001) and Still Small Voice (2003). After a long hiatus Paul Jackson, Jr. presents his new album Lay It Back on his new label Branch Records.
Patrice Rushen (piano), keyboardist Bobby Lyle, bassist Alex Al, vocalist James Reese, Ray Brown (Earth, Wind & Fire horns), The Rickey Minor Band, Rex Rideout, Jeff Lorber, the list of contributing artists is long. Most of them already performed with Paul onstage or in the studios.
The album starts with the funky The Workout. The intro reminds of Pick Up The Pieces signalizing the direction of the tune. Jeff Lorber penned the song while the horns were arranged by Ray Brown. Trumpet player Ray was the section leader of The Earth, Wind & Fire Horns.
Life is short. Don't take it too serious. So Lay It Back as Paul suggests: "Another thing that I consciously did while recording this album was attempt to really make people feel something with my music. I hope the music resonates with listeners on a deeper level."
Smooth Jazz covers are today's very popular. Radio stations often play covers of hits, appealing the audience. Paul Jackson is no exception and delivers Stevie Wonder's Don't You Worry 'Bout A Thing with his own perfectionism.
Who dislikes pomposity will love the simple but intelligent melody of To Be Like Him. Power is in the naturalness. Paul Jackson often leans on traditional arrangement and sound. 2 For 10,000 has some Bossa Nova influences and the strings as background is solid handcraft. But then his mastery of the guitar, breathtaking! Bobby Lyle on piano is always a special treat.
After so much acrobatic musicianship Paul relaxes on Ballad For Uncle Ronnie. This song is dedicated to Luther Vandross. Paul has performed on most of Vandross' recordings. We will never forget him. Can This Be Real? is featuring singer James Reese, a songwriter and friend from Paul's childhood growing up in South Central L.A., who also joined him on Still Small Voice, Paul's last album.
On Lucy The Cat Paul's guitar is well supported by Greg Mathieson's horn arrangement. L.A. based Greg is not only one of the top keyboard session players but also one of the top arrangers. Bay Shore Drive is a journey through familiar areas.
More aggressive is Hind's Feet, co-produced by Rex Rideout. Remarkable is Freddie Flewellen's signature bass sound. This bassist also performed on Doc Powell's Cool Like That and reminds me of Stanley Clarke's slap technique.
"Know it sounds funny, But I just can't stand the pain", sings Lionel Ritchie and Easy Like Sunday Morning is Paul's brilliant rendition. He promised us better songs and yes, he keeps his promise.
That is thack! Paul brings us back the funk with Swing It. Since George Duke and Quincey Jones I love that sound. Hit It showcases multi-instrumentalist Paul as one-man-show. Perfect! Fourteen 'Til is the surprising finish with a dark bluesy ballade.
Paul Jackson's album is a standout work. Paul is the marksman of contemporary jazz.



Bio

Website

Buy the album in

Title: Lay It Back
Artist: Paul Jackson Jr.
Year: 2008
Length: 1:04:53
Genre: General Jazz
Label: Branch Records


Tracks:

01 The Workout [4:02]
02 Lay It Back [3:51]
03 Don't You Worry 'Bout A Thing [4:55]
04 To Be Like Him [5:35]
05 2 For 10,000 [5:23]
06 Ballad For Uncle Ronnie [5:07]
07 Can This Be Real [4:50]
08 Lucy The Cat [3:54]
09 Bay Shore Drive [3:52]
10 Hind's Feet [4:06]
11 Easy Like Sunday Morning [4:42]
12 Swing It [4:48]
13 Hit It [3:53]
14 Fourteen 'Til [5:54]