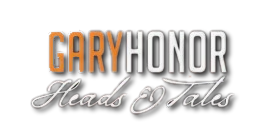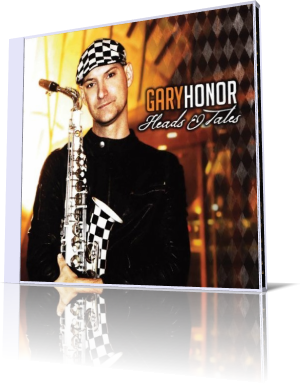 A young Australian smooth jazz saxophonist went on board at Warren Hill's Smooth Jazz Cruise in 2005 and won the contest "Star Search". Rightly, he has earned the name Honor.
He was kindly enough to give me his debut album Atmospheric (2004), that my positive impression fully confirmed. The more I was pleased that Gary has now published on the prestigious label Trippin 'N' Rhythm his new album Heads & Tales (2012).
Great thanks go to keyboardist Oli Silk who produced and arranged all songs and performs piano, keyboards and even the Didgeridoo. Gary takes the lead on soprano, alto, tenor, bari saxophone and flute. Further musicians on the album are Orefo Orakwue (bass), Andrew Small (drums), Mark Jaimes, Neil Youel and Matt Park (guitar), Craig Mitten (trumpet) and Gary "Big G" Stanionis (percussion).
Even with the title track shows Gary, that he has learned his lessons. A dynamic, funky song with great timing and energy he surprised the audience with some cheeky tones.
That cooperation with Oli is good for him, one notices also on the second song Juan Step Ahead with a certain Paul Hardcastle flavor. With Under the Influence one can identify Gary's models. Contemporary jazz is certainly for him an alternative.
On Southern Exposure Gary shows up his skills on flute presenting a multi-layered dream using special studio technique. Gary Benson's Close To You was originally recorded by Maxi Priest in 1990. Gary delivers a polished rendition with the prolific singers Troy Anthony Smith and Briana Cowlishaw.
With the funky and brassy Don't Push It Gary follows the horns of Maceo Parker or Candy Dulfer. Chatswood Chase is a large upscale shopping centre in Sydney's North Shore suburb of Chatswood. Looks like Gary has a special connection to this place.
On Way Back When Gary pulls out all the stops. With trenchant tones and gentle melodies he performs a very own balancing act. On Island Pearl he defines his personal life and Holiday Happiness.
With Leave Tomorrow Behind he walks through the lowlands of mourning building a new hope. The swift-flowing Rock the Jazzbah! relies on a trendy rhythm. More lifestyle than jazziness.
Cor Blimey! is an exclamation of surprise being as it is, a contraction of 'God blind me'. Musically Gary re-bonds to the music of James Brown. Dreamweaver provides a bridge to New Age music featuring Honor on flute. At times dreamy, at times, but also artistically like Hubert Laws or Tim Weisberg.
Gary Honor's Heads & Tales shows his remarkable progress. In his mastery of the instrument and his compositional skill, he can compete easily with other contemporaries of his craft




Website


Buy the album in all stores

Album Information

Title: Heads & Tales
Artist: Gary Honor
Year: 2012
Length: 1:03:29
Genre: General Jazz
Label: Trippin' N Rhythm Records

Tracks:

01 Heads & Tales [4:38]
02 Juan Step Ahead [5:25]
03 Under the Influence [6:29]
04 Southern Exposure [3:52]
05 Close To You [5:55]
06 Don't Push It [5:09]
07 Chatswood Chase [4:09]
08 Way Back When [3:40]
09 Island Pearl [5:25]
10 Leave Tomorrow Behind [4:19]
11 Rock the Jazzbah! [5:06]
12 Cor Blimey! [3:52]
13 Dreamweaver [5:29]



Further review: