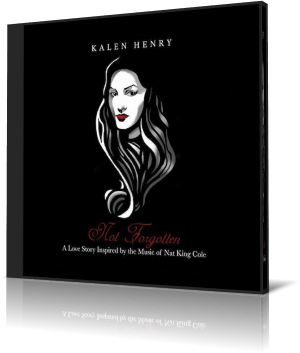 Vocalist Kalen Henry, the daughter of the well-known bassist Trey Henry, has a direct access to music and came early into contact with songs of Nat King Cole, Frank Sinatra, Imagine Dragons, Macklemore, and Adele.
Through her father she was able to realize her first project without any problems, an album with songs by Nat King Cole, which have been part of the American Songbook for a long time. In addition to her father, she is supported by Andrew Synowiec (guitar), Paul Viapiano (mandolin, guitar), David Witham (Rhodes), and Ray Brinker (drums, percussion).
The compilation of the songs is well thought-out and follows the principle of a love story. Straighten up and Fly Right was written by Nat King Cole and Irving Mills in 1943. The song is about a monkey being picked up by a buzzard and starting a funny dialogue with it. Kalen Henry connects the song with her own vocal personality and embeds it in a demanding instrumental context.
Nat King Cole made the song by Eden Abhez Nature Boy very popular and received widespread recognition. Finally the song was awarded GRAMMY hall of fame in 1999. The interpretation on this album is implemented with great attention to detail and clearly lives up to the message that the most important thing in life is love to be loved.
Orange Colored Sky describes onomatopoeically the moment when love strikes you like lightning out of the blue. Kalen's rendition is a completely new approach to this theme. This Can't Be Love is a tune from the 1938 Rodgers and Hart musical The Boys from Syracuse with the crucial core sentence "This can't be love because I feel so well". The special merit of this new version lies in the transcription of swing into another genre.
Unforgettable is one of the great songs of Nat King Cole, which he also sang virtually as a duet with his daughter Natalie. Kalen's voice finds in a perfect pitch with the harmonies of the accompanying guitar. It's Only a Paper Moon was originally written for the Broadway play The Great Magoo (1933) and became popular by a legion of covers. You can only recognize the song by the lyrics, so strongly in a positive sense Kalen changes the character of the song.
The song Smile was composed by Charlie Chaplin for his 1936 movie Modern Times. The interprets covering this song ranges from Nat King Cole to Michael Jackson. Kalen brilliantly combines elements of pop, folk and world music into a fascinating mélange. Don't Get Around Much Anymore is a jazz composition by Duke Ellington (1940). The song is about heartbreak, which couples with defiance in a peculiar way. Kalen's rendition reaches an impressively high level here as well.
L-O-V-E is a song recorded by Nat King Cole for his studio album L-O-V-E (1965). It was composed by Bert Kaempfert with lyrics by Milt Gabler. Kalen records the song very emotionally and opens the door to romance. Our Love is Here to Stay was written by George Gershwin with lyrics by Ira Gershwin for the movie The Goldwyn Follies (1938). Even more than Kalen's vocal arrangement I was impressed by the instrumental realization of the song.
Kalen Henry's debut album Not Forgotten reaches an artistic level of staggering high. Of course, the 19-year-old Kalen let herself be guided by her experienced musical colleagues who have achieved more than the optimum.




Buy the album in all stores

Album Information

Title: Not Forgotten
Artist: Kalen Henry
Year: 2018
Genre: Vocal Jazz
Label: Blue Canoe Records

1 Straighten up and Fly Right 3:22
2 Nature Boy 3:31
3 Orange Colored Sky 3:38
4 This Can't Be Love 3:16
5 Unforgettable 4:49
6 It's Only a Paper Moon 4:15
7 Smile 4:11
8 Don't Get Around Much Anymore 3:41
9 L-O-V-E 2:19
10 Our Love is Here to Stay 5:30