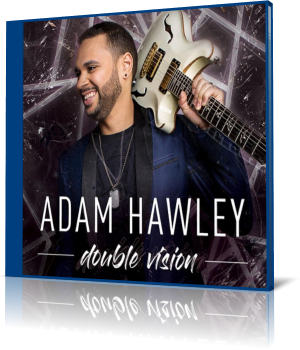 Los Angeles based guitarist Adam Hawley has already worked as sideman for stars like Jennifer Lopez, Monica, Kenny Latimore, Rick Braun, Dave Koz, Richard Elliot, Michael McDonald, Brian Culbertson and many more.

More important is his solo career, which he started with his aptly titled album Just The Beginning in 2016. His friend and band mate Greg Manning helped him to get a contract with the label Kalimba music. Now Adam returns on the same label with his second album Double Vision in 2018.

He is joined on the new album by an incredible huge cast of musicians such as Dave Koz, Keith McKelley, Darren Rahn (saxophone), Carnell Harrell

(organ), Nathaniel Kearney Jr.

(key bass), Eric Valentine

, Gary Novak (drums), Ramon Yslas (percussion), Jeff Lorber

(Rhodes, piano, Clav), David Mann

(horns and arrangement), Mel Brown

, Julian Vaughn

, Ian Martin

(bass), Marcus Anderson

(sax, flute), Demonte Posey

(Rhodes), Carnell Harrell

(synth), Greg Manning

(keys), Kat Hawley

(vocals) and Trevor Neumann

(trumpet).

The album takes a furious start with the invitation Just Dance featuring Dave Koz in a duet with lead guitarist Hawley. With precise riffs he brings the essential vibe to the point. Party People describes the ease of life in colorful tones and Jeff Lorber sets powerful accents on the keys. The perfect horn arrangement is homemade by David Mann.

Can You Feel It? slows down the tempo to a moving groove with a sensitive support by Marcus Anderson on sax and flute. Traveling Mood offers the dark side of Julian Vaughn's bass. Detroit displays the pulsing vivacity of America's heart of music.

Hello is the GRAMMY awarded megahit by English singer Adele, released in 2015 and dominating the charts. Kat Hawley, Adam's wife, joins him in an expressive twosome with a special interpretation of a song, who has the potential of an evergreen. Shuffle featuring Darren Rahn develops from a routine piece of music into a uniquely personal style of a guitarist who knows his crafts.

Just a Friend of Mine is first of all a dynamic one. However, what impresses me deeply is Nathaniel Kearney Jr.'s bass line. Shake has the focus on guitar. But Adam tries to avoid to just bang out some riffs. Instead he lets his guitar speak. On 1Am Hawley shines with harmonious presence on his instrument relying more on his talent than the power of the melody.

Adam Hawley's Double Vision is, of course, a concept album with the aim of optimally putting Adam's skills as a guitarist in the limelight. Beyond that it's a sonic feast for the senses!




Biography

Website


Buy the album in all stores

Album Information

Title: Double Vision
Artist: Adam Hawley
Year: 2018
Genre: Smooth Jazz
Label: Kalimba Records


Tracks:

1 Just Dance (feat. Dave Koz) 4:23
2 Party People (feat. Jeff Lorber) 4:43
3 Can You Feel It? (feat. Marcus Anderson) 4:11
4 Traveling Mood (feat. Julian Vaughn) 3:50
5 Detroit 4:46
6 Hello (feat. Kat Hawley) 5:10
7 Shuffle (feat. Darren Rahn) 4:55
8 Just a Friend of Mine 4:34
9 Shake 5:27
10 1Am 5:07