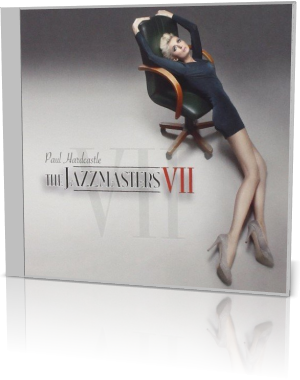 Paul Hardcastle is the living prove that a studio musician can reach the # 1 on the US Billboard Contemporary album "sales" chart without any live concert. Not that it would be a problem, to implement the recording one to one into live music.
Paul also hasn't changed his style in all the years of his success. After the first few bars one immediately recognizes that is a Paul Hardcastle. Especially his Jazzmasters Series shows a distinctive elegance.
The Jazzmasters VII (2014) is no exception. According to the liner notes the album is purely instrumental just with some vocal drops here and there. Paul Hardcastle Jr. (sax), Maxine Hardcastle (vocals) and Rock Hendricks (sax) added their natural input, where it was required.
On the starting Unlimited Love Hardcastle is inspired by Barry White's Love Theme, known by Cover 2 Cover, and forms this muse into relaxed vibes. Cindy Bradley carries with gentle trumpet sounds to the overall picture.
Rhythm of Life benefits from the pulsating rhythm perfectly programmed on modern samples. Saxophone and vocals are sound episodes highlighting the flow like flashes. Free To Fly can take it slower. Time to dream. The up-tempo Starlight Express combines elements of dream with velocity. The sax performs the focus of melody.
The rain plays a not insignificant role in Hardcastle's oeuvre. Mention should be Return Of The Rainman of the albums The Chill Lounge Vol 1, Hardcastle 5 and The Collection, Soft Rain from the album The Chill Lounge Vol 1, Summer Rain of the album Jazzmasters II, Walkin in the Rain of Hardcastle 3 and of course Rainforest. Rock Hendricks makes on Soft Rain the difference to the previous cited songs.
The Domino Effect is a chain reaction. A good title for a song where one tone causes the next. Pulse of the Universe applies the same principle. A dense wall of reverberation with sound sequences woven in themselves. On Unlimited Love "The Strings" Hardcastle again takes up the familiar theme.
Listen to Remote Control by Loose Ends or any song by the SOS band and you get the feeling for the sound of Roland's first drum computer TR-808 and his creative use in the 80's. Come On brings these feelings back into game. A distinctive design element is the repetition of a melodic structure. On Breathe Hardcastle and Hendricks play these sequences such as tennis balls.
Echoes of Eternity presents a variation of wind instruments with a focus on the flute. Last song is a reprise of Rhythm of Life with an alternative approach in rhythm and instruments.
Paul Hardcastle has an impeccable sense for ear flattery. His signature sound is eagerly taken up by his fans. A real winner.




Album Information

Title: The Jazzmasters VII
Artist: Paul Hardcastle
Year: 2014
Length: 0:59:40
Genre: General Jazz
Label: Trippin' N Rhythm


Tracks:
01 Unlimited Love, Pt. 1 [4:00]
02 Rhythm of Life [3:27]
03 Free to Fly [4:43]
04 Starlight Express [4:35]
05 Soft Rain [5:03]
06 Domino Effect [4:39]
07 Pulse of the Universe [6:13]
08 Unlimited Love "The Strings" [7:58]
09 Come On [4:17]
10 Breathe [5:36]
11 Echoes of Eternity [5:44]
12 Rhythm of Life Reprise [3:25]






Further reviews