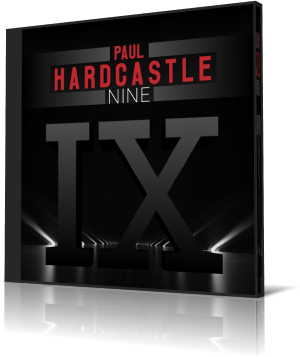 Many have remembered Paul Hardcastle through his huge hits King Tut, 19, Just For Money or Rainforest. However, he was never able to build on these really great successes again. But the smooth jazz community knows him all the better through his numerous series like Kiss the Sky (with Jaki Graham) and The Jazzmasters, as well as under his real name Paul Hardcastle.
The latest The Jazzmasters album was VII in 2014, Hardcastle VIII was released in 2018, The Chill Lounge Vol. 3 in 2015 and The Chill Lounge Vol. 4 in April, 2020. If you want to get an overview of his complete works, I recommend this website.

Paul Hardcastle is one of those musicians who deny themselves live performances. This is probably mainly due to the fact that he creates most of his albums as a multi-instrumentalist. Also on his latest album he crafts his music on this solo way. Flugelhorn player Gary Winters, saxophonist Rock Hendricks, and vocalist Maxine Hardcastle, his daughter, are as well on this recordings.

The album starts with the ambient intro Welcome to the Morning featuring melodious guitar chords accompanied by synth waves. Then Paul fires up his famous groove machine on Latitude. Rock Hendricks sets his accents with grooving blows on sax.

On Tropicool Paul exercises a key theme in slow-tempo repetition, while Gary Winters improvises on Flugelhorn in excellent brilliance refreshing the tune to something special. Welcome to the Beach presents a slick and smooth motif, that fully justifies the adjective "soothing".
Outside My Window features songstress Maxine Hardcastle, her silky vocals reminds me of the German singer Sandra who enjoyed a mainstream popularity in the 1980s. Let It Go combines successfully anew Paul Hardcastle's sound engine with Rock Hendrix's ultra smooth sax.

Soaring Like An Eagle is an onomatopoeic title that is perfectly reflected in Hardcastle's rising music. No Escape Pt 1 and Pt. 2, yes there are two parts of the song on the album. On both tracks Maxine languishes in a lusty mood, while Rock underlines her vocals on sax.
On Universal Vibes Paul handles his nifty hypnotic tune nicely interlaced with Rock's relaxing sax. Falling is a rhythmical, sultry and suave Pop tune featuring Maxine's echoed vocals. We have to celebrate a real melody. Lovin' You Lovin' Me featuring Maxine's lead vocals has all ingredients to climb the Pop charts quickly.
Innocent falls back on the pulsating sound mix for which Paul Hardcastle is so well known.

With Hardcastle IX Paul Hardcastle remains true to himself 1:1. With a music scheme that's hypnotically appealing he can rally his loyal fan base behind him.






Buy the album in all stores

Album Information

Title: Hardcastle IX
Artist: Paul Hardcastle
Year: 2020
Length: 1:00:41
Genre: Smooth Jazz
Label: Trippin N Rhythm Records


Tracks:

1) Welcome to the Morning (2:08)
2) Latitude (4:24)
3) Tropicool (6:24)
4) Welcome to the Beach (4:09)
5) Outside My Window (4:47)
6) Let It Go (4:29)
7) Soaring Like an Eagle (6:23)
8) No Escape Pt 1 (4:39)
9) Universal Vibes (4:26)
10) Falling (5:52)
11) No Escape Pt 2 (4:35)
12) Lovin' You Lovin' Me (3:31)
13) Innocent (4:46)