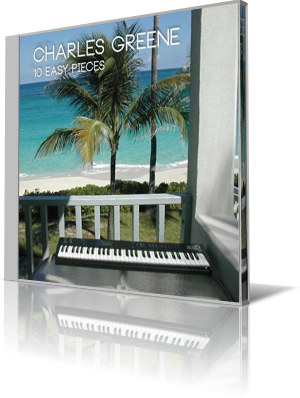 Detroit born keyboardist, pianist, composer and producer Charles Greene learned his profession in bars and lounges of the Motor City from the masters of jazz.
He toured with several Motown acts like the Spinners, the Four Tops, and Jimmy Ruffin, and has also worked with Vic Damone, Richard "Groove" Holmes, Ernestine Anderson, Laura Lee, Marcus Belgrave, Jerald Daemyon, and many other artists.
His solo project is entitled 10 Easy Pieces and was released this year. Charles has composed and produced all songs. He performs piano, organ, synthesizers & programming and is joined on selected tracks by Albert Martin III, Carl Robinson (guitar), Dwight Adams (trumpet/flugelhorn), Jason Gaddis, Ron Otis, and Bill Ray (drums).

With Blue Bobbles Charles opens his veritable treasure trove of music. A reggae flavored Caribbean jazz influenced tune with a sparkling set of organ and horns. When one listens to the Hammond B3 on Like Old Times then the burning desire for the golden age of Acid jazz or pure funky jazz arises.
When synthesizer meets dark synth bass on a shuffling beat and the vibes kick in, the music hunter is on Night Search. Dwight Adams adds elegant soul on trumpet with a certain film noire flair. Fruit Salad sounds like something from the forbidden tree of War. But Charles has developed a tremendous cultural product of his own experience with the Hammond B3 as his instrument of choice.
Peace reduces the pace from the adrenalin rush to the more reflective trip with trumpet maestro Dwight Adams in tow. Enough space for Dwight to excel in the style of Miles Davis. The reggae has a firm hold on Charles. Spliff Notes offers a fascinating mélange of jazz and reggae beat.
The Sweeter the Juice brings after the motto diversity is the key a handpicked piece of smooth jazz. With a stellar guitar solo of Carl Robinson the tune propels to the next level of celebration. Ocean View goes back to the Caribbean scene with steel drums, accompanying ratchets, synth and piano. With his own unique rhythmic pulse Charles captures the energy of jazz in an absolute new context.
Brazilian samba is the musical tendency of Bossa Verde featuring piano and flute in the lead. On You Already Know Charles Greene applies the final touches to everything what deserves the name keys. Charles achieves his self-imposed target with smooth effortless and the cool elegance of a magician of all keys.
One thing I learned from this album. Never judge an album according to its outer image or its title. True mastery is not dependent on outward appearances. Charles Greene is the hidden pearl in the shell.





Buy the album in all stores

Album Information

Title: 10 Easy Pieces
Artist: Charles Greene
Year: 2017
Genre: Smooth Jazz
Label: Independent

Tracks:

1 Blue Bubbles 3:40
2 Like Old Times 3:49
3 Night Search 4:52
4 Fruit Salad 3:29
5 Peace 5:54
6 Spliff Notes 3:16
7 The Sweeter the Juice 4:17
8 Ocean View 5:04
9 Bossa Verde 4:23
10 You Already Know 4:39