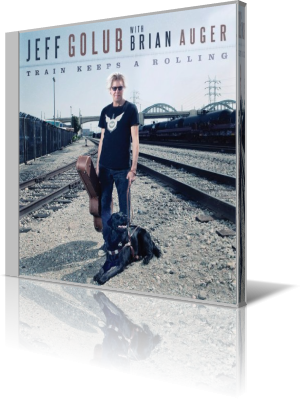 Born in Copley Ohio, guitarist Jeff Golub was influenced by guitar legends like Eric Clapton, Jeff Beck, and Jimi Hendrix. He worked as a sideman for Rod Stewart, Tina Turner, Vanessa Williams, and Gato Barbieri.
His solo career started Jeff with the group Avenue Blue later as solo artist. His new album Train Keeps a Rolling was released on August 13, 2013 through Entertainment One Music. This is his 12th record as solo guitarist.
On the new album Jeff performs with British organist Brian Auger and Steve Ferrone (drums), Derek Frank (bass), Luis Conte (percussion), Mindi Abair (alto sax), Nick Lane (trombone), Dave Woodford (bari sax and flute), and Steve Madaio (trumpet). As vocalists also appear Christopher Cross, David Pack and Alex Ligertwood.
You certainly know in which direction the train is rolling and you are absolutely right. The album starts with Lalo Schifrin's The Cat, an album of organist Jimmy Smith, which was very popular in the 60's. On this album Brian Auger takes the lead on Hammond B3. A very special alternative.
The album continues with Isola Natale, a tune composed by Brian Auger during the Trinity time and now officially released. The title song is fast paced and has an impressive uplifting groove. This goes into the direction of Santana's Jingo. Willie Dixon's I Love The Life I Live gets a new polish. Jeff seems to share this opinion against all odds.
Curtis Mayfield's Pusherman has a miraculous percussion intro. You will not find it on this version, which is designed around Auger's Hammond B3. We are compensated by a fantastic horn arrangement. I must admit Paul Carrack's How Long featuring Christopher Cross has hit quality. But this song is not intended for single release.
J&B is a song, you can just keep going. Auger and Golub are really a dream team. Happiness Is Just Around The Bend features Alex Ligertwood. This Scottish singer has a raw timbre with great expressiveness. Shepherds Bush Market is the third tune out of the pen of Brian Auger. A piece with a great potential for live sessions.
On Whenever You're Ready Alex Ligertwood shows anew his vocal power. The album ends with Sting's Walking On The Moon featuring David Pack, whose vocal characteristic comes very close to Sting's voice. That makes Jeff's tribute just perfect.
When you bring some jazz-rock musicians together, you can await a rockish jazz album. That was Jeff Golub's intention and with any doubt very successfully.



Biography

Website


Buy the album in all stores

Album Information

Title: Train Keeps A Rolling
Artist: Jeff Golub And Brian Auger
Year: 2013
Length: 0:47:47
Genre: General Jazz
Label: eOne Music

Tracks:


01 The Cat [3:18]
02 Isola Natale [4:20]
03 Train Keeps A Rolling [3:39]
04 I Love The Life I Live [5:13]
05 Pusherman [4:43]
06 How Long [3:55]
07 J&B [3:33]
08 Happiness Is Just Around The Bend [4:43]
09 Shepherds Bush Market [4:03]
10 Whenever You're Ready [4:34]
11 Walking On The Moon [5:47]