Galaxy Lounge – Welcome To The Party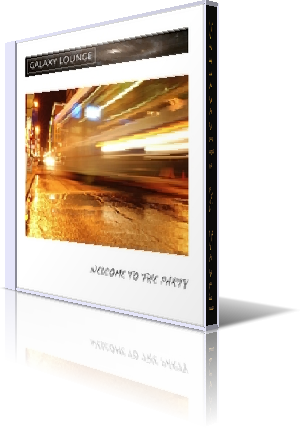 During his time in New York Jon Grindstaff, the creator of the project Galaxy Lounge, performed on gigs around the city. As bass player he jammed in diverse bands, while his day job was writing for commercials. Since more than twenty years, he worked as a composer and arranger in New York, creating music for television and radio commercials.
Since 2002 Jon lives in Pennsylvania, where he was now infected by the music bug again. In 2008 Jon released his debut album Welcome To The Party and received high acclaims by the usual suspects. The album is still on spin on many syndicated radio shows. According to the liner notes Jon has written, arranged, played, programmed, recorded and mixed all songs. So Welcome To The Party is a one-man-show.
Voices celebrates a festival of jungle pipes and vocals. The lead theme is performed by a magic trumpet and recognized by bass and keyboards.
Climb is joking with bluesy vocals and peppers the air with keyboards and horns. The arrangement is simply perfect and reveals Jon's great experience. It's amazing what a single person can create in his home studio.
Heading Wes is Jon's homage to the late Wes Montgomery, the idol of a generation of guitarists. Although the guitar samples are crispy and clean, the approach to guitar sound modeling and guitar part performing cannot reach the articulation and expression of real guitars. However Jon did a great job under these conditions.
Nightbreak is a dynamic tune with a big bunch of samples, loops and everything possible in today's electronic equipment. Ready for take off to the next dance floor. When you listen to Midnight Downtown, that's not Michael Cretu's Enigma. But it's certainly the same flow and groove like Brian Auger's Green Onion. Music ideas are carved in our heads. Jon lets them out.
No Secret, Agent might be the score of a new James Bond movie. Great tension! City Lights is a reprise of the first tune. Conga beats, dark bass and electronic sounds build a fantastic music picture with impressing horn arrangements.
Spunky offers a jamming shuffle with a huge horn impact. Jon showcases his brilliant piano skills. Why not some more improvisations? Just let it go. Warm Night, Ocean Breeze is without a doubt inspired by Art of Noise's Robinson Crusoe. I cannot withstand this captivating theme.
Hypnotocracy walks anew on Michael Cretu's path with a mesmerizing Tablas shuffle beat. Besides the medieval choral swing synth vocals and strings. It's really fascinating what the world of samples offers today. Take for example the pot drums from Africa introducing into Blessed Rain. Strings and horns conjure an adventurous atmosphere of secrets.
Welcome To The Party is the final exposure of a complete big band in the style of Lou Vega's Mambo Nr. 9. I love it!
My kudos to Jon Grindstaff's debut album. This journey into smooth jazz and lounge is really refreshing and hip.




Album Information

Title: Welcome To The Party
Artist: Galaxy Lounge
Year: 2008
Length: 0:53:37
Genre: Smooth Jazz / Lounge
Label: Independent


Tracks:

01 Voices [4:25]
02 Climb [4:14]
03 Heading Wes [5:53]
04 Nightbreak [4:43]
05 Midnight Downtown [4:42]
06 No Secret, Agent [3:46]
07 City Lights [4:12]
08 Spunky [3:50]
09 Warm Night, Ocean Breeze [4:39]
10 Hypnotocracy [4:23]
11 Blessed Rain [5:15]
12 Welcome To The Party [3:34]