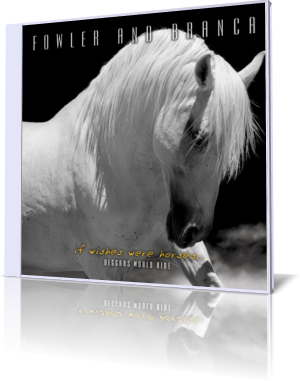 Bob Fowler and Steve Branca's music is an eclectic mixture of various genre including Jazz, R&B, Latin, World, and even Country. Listening to their songs one remarks an indisputable affinity to smooth jazz.
Their debut album The Face on Cydonia was released on the Silver Wave Records label in 1991. Etched in Stone followed a year later and then Three Flights Up in 1994. Real Nice Ride was their first independently released CD in 1995. After a long hiatus the music veterans are back with their newest album If Wishes Were Horses, Beggars Would Ride.

On their new album the duo slightly changed their style to a more up-tempo but really catchy style. Bob Fowler plays basses, guitars, keyboards and drum programming, Steve Branca guitars, mandolin, keyboards and vocals. Guest musicians on some tracks are Kathy Wilson Fowler (vocals), Dean Carrigan (bass, vocals) George Mesterhazy (keyboards, accordion), Marc Adler (flute) and Matt Newsome (vocals).
Some albums are so touching, that one is lucky for the opportunity to listen to the music. If Wishes Were Horses, Beggars Would Ride is one of those rare magical gems. The title song awakes attention with a mesmerizing mixture of world music, guitar and bass wizardry.
The mandolin driven Skyline confirms the first impression. These are musicians on a high inventive musical level. One of the best songs I heard this year. Caution! Masters at work! With So To Speak the group dives in the ethereal arcades of sound at the borderline between jazz and new age.
The sparkling radiance of Moonlight is shimmering on the sea, while the band intonates their acoustic wonder. Beautiful guitar riffs are flowing into the night. On Why guitar and harmonica melt into a divine marriage. Half Steps shows guitars at their soothing best.
Let It Slide understands the romantic pace of the previous songs. Follow Me adds bass and electric guitar to the instrumental round dance. Walking My Brother's Road presents the wonderful singer Kathy Wilson Fowler. Kathy has the gift of accurately capturing the vocal trademark qualities of many female recording artists while still offering her own golden tone.
Somewhere Out West there you will find a musical paradise. Native American flute, acoustic guitar and more ingredients of the Western world deliver a cozy happy home feeling. Teresa is the band's ode to a beloved person. Gr 20 might be titled after the great Roland guitar synth. A fantastic electric guitar piece.
Tall Tale presents Steve Branca's mandolin, an instrument I love since Bruce Hornsby's Mandolin Rain. The album closes with The End Of The Day, a contemplative song. At the end of the day there's another day dawning and the sun in the morning is waiting to rise (Les Miserables).
If Wishes Were Horses, Beggars Would Ride is without doubt Bob Fowler's and Steve Branca's tuneful monument shining over all musical genre.




Buy the album at CDBaby


Album Information

Title: If Wishes Were Horses, Beggars Would Ride
Artist: Fowler & Branca
Year: 2011
Length: 1:02:17
Genre: Smooth Jazz
Label: Unsigned


Tracks:

01 If Wishes Were Horses, Beggars Would Ride [3:41]
02 Skyline [4:14]
03 So To Speak [4:29]
04 Moonlight [4:23]
05 Why [3:44]
06 Half Steps [4:30]
07 Let It Slide [4:43]
08 Follow Me [3:57]
09 Walking My Brother's Road [5:11]
10 Somewhere Out West [4:55]
11 Teresa [4:35]
12 Gr 20 [5:17]
13 Tall Tale [4:15]
14 The End Of The Day [4:22]