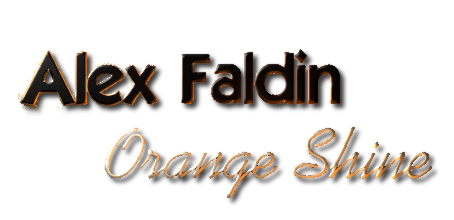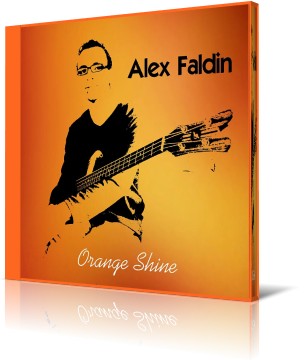 Hailing from Moscow, Russia, Alex Faldin is playing the bass since his fourteenth year. His debut album was A Peaceful Place (2018). His sophomore album Through Practice followed in 2019. Orange Shine (2021) is Alex's third album.
Faldin performs on his new album a variation of basses such as 4-string bass, piccolo bass, and acoustic fretless bass. In addition, as a multi-instrumentalist, he also plays keyboards and programming. He has written, arranged, mixed, mastered and produced all songs. He is also responsible for design and artwork of the album.
The album opener Arrival provides an encouraging glimpse into the future, when travel will once again be carefree and worry-free. The attentive listener will notice the excellence in performance and arrangement, which brings a lively melody to the ear.
Alex has developed an extraordinary fondness for the color orange, which he acts out in the title song. Finds the correlation between color and music. With Warm Sunset he acoustically captures the sunbeams of the beginning autumn, which awakens our zest for life.
Good Day Samba takes us to Brazil, where the samba has its origin. Marigolds is a flower that bring the color of sunshine into your garden. Who can resist such beauty? The aptly titled track Very Simple has elements of familiar songs. Is there a sound migration similar to the transmigration of souls?
In Endless Movement, Faldin incorporates his influences, which range from Bob James to Lee Ritenour. The title Pink Clouds hints at something psychedelic, but melodically this turns out to be more of a rock-solid ballad that takes it easy.
Short Light soars in a wide atmospheric arch of sound that evolves from a chord of five notes. Smoothman is dedicated to the late guitarist Chuck Loeb. A blessed musician who was down to earth and always friendly to everyone.
If you just want to relax and unwind while walking, Elegant Walk is the right accompaniment. Why Faldin called the last piece Maze is beyond me. The piece is well structured and inspires with sonic sound sequences.
Alex Faldin new project Orange Shine impresses with extraordinary melodies and perfectly arranged songs. His work is a welcome addition to anyone's smooth jazz collection.




Buy the album in all stores

Album Information

Title: Orange Shine
Artist: Alex Faldin
Year: 2021
Genre: Smooth Jazz
Label: Faldin Bassman Music

1) Arrival (3:54)
2) Orange Shine (3:39)
3) Warm Sunset (3:22)
4) Good Day Samba (4:07)
5) Marigolds (4:03)
6) Very Simple (3:36)
7) Endless Movement (4:11)
8) Pink Clouds (3:38)
9) Short Light (3:55)
10) Smoothman (3:46)
11) Elegant Walk (4:29)
12) Maze (4:11)