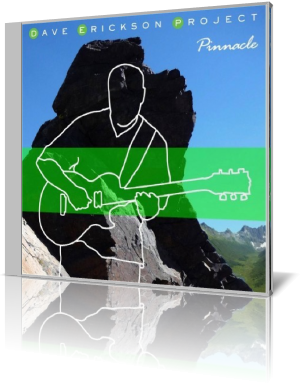 The nice thing about smooth jazz is that you can always get to know new musicians. The Dave Erickson Project consists of the Quartet Dave Erickson (guitars), Chuck Leichner (keyboards and acoustic piano), Deon Kuhl (drums), and Rick Brough (bass). Living in Denver and inspired by the magnificent Colorado mountains the group is ready for new deeds.
Their debut album Pinnacle (2013) offers twelve slightly catchy tracks, which can be sampled at CDBaby. All tracks were written by Dave himself.
The launching piece Pinnacle is well structured and switches between bridge and main theme. Here, the piece combines elements of smooth and contemporary jazz. There is even some space for a little improvisation.
Denver, Colorado is not only a vibrant city, but also attractive for smooth jazz groups like Dotsero. Gig masters lists 144 professional Denver Smooth Jazz Bands. With The Dave Erickson Project we have an alternative in town. Fat Cat delivers the prove, this band has the prowess for live events. Especially the synthesizer and the guitar solos are impressive.
Know The Way Up shows more towards contemporary jazz. Found It also suggests that the band seeks an own way apart the usual music genre. But the search seems to be not yet completed. When a composer calls his piece Essence, one expects the substrate of creative inclination. In this specific case, keyboardist Chuck Leichner gives the instructions for the correct direction. That means the playful performance surpasses the compositional charm of melody.
Do It Again is not a cover of the Steely Dan hit. The quality of the pianist gives the piece again the desired gloss. On Drive It Home bass and drums provide the necessary power. With Mountain Samba the group also produces some Latin American. With organ and wah guitar the band spreads vintage feeling on Easy Life. Aspen Wind also convinces by the interplay of the musicians. Perhaps Dave was inspired by Russ Freeman's music.
On Friday Night Groove the night seems to be a little advanced. One More Time wants the group at the end of the album. This must ultimately decide the audience.
Pinnacle has good approaches. The main reason for the positive impression is pianist and keyboardist Chuck Leichner.




Biography

Website


Buy the album

Album Information

Title: Pinnacle
Artist: Dave Erickson Project
Year: 2013
Length: 0:51:37
Genre: General Jazz
Label: Arete Publishung


Tracks:

01 Pinnacle [4:36]
02 Fat Cat [4:15]
03 Know The Way Up [4:21]
04 Found It [3:50]
05 Essence [4:47]
06 Do It Again [4:25]
07 Drive It Home [4:02]
08 Mountain Samba [4:24]
09 Easy Life [4:36]
10 Aspen Wind [4:02]
11 Friday Night Groove [3:40]
12 One More Time [4:39]