Jakob Elvstrøm – SaxClub vol.1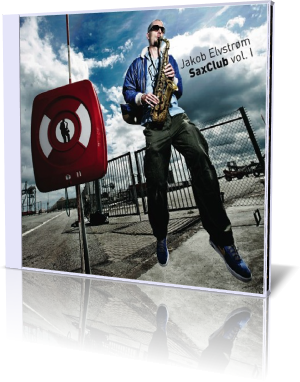 Hailing from Denmark Jakob Elvstrøm is influenced by David Sanborn, Lou Donaldson and Candy Dulfer. He earned his first merits as sax player with his first self-titled band the "Jakob Elvstrøm Quartet" which played a lot of gigs in the late 90's.
SaxClub vol.1 is Jakob's first album as solo artist. Although oriented to American smooth jazz Jakob's project surprises with an innovative and unique approach to the old style.

The album starts with the stomping Make It Flow. The funky song features Danish singer and rapper Karen Mukupa. Her new album Dreamer is a unique mix of reggae, Afro, Latin, a hint of hip-hop, and last but not least RnB. So await music in the style of Candy Dulfer with some African and European flavor.
I Love Your Smile was originally released by Shanice in 1991 on her album Inner Child. Branford Marsalis performed the sax on the original, which certainly inspired Jakob to this fabulous cover in reggae style.
Monkeytown is a mesmerizing tune with a hypnotic rhythm. Jakob's sax and the great Danish horn section bring it just to the point. That's a dance pusher. The romantic Lost And Not Found is fostering in the smooth jazz pool.
Down That Road follows the path of the American songbook. Put'Em Up features reggae king Pops Jabu. "I want my music to be rolled up, puffed up and passed on," comments the Zimbabwe born singer on his website prepared for a great start. Listen to this really crazy African.
Blue And Funky slows down the tempo to a relaxed funky beat for leisure and chill-out. Late Night Slammin' squeezes the funky tube to the rest. When We Are Together features singer Raz Conway. Raz is just working on his first solo project. This rising star has worked with Puff Daddy, Graham Central Station, Waren G and more.
Record Connection is proliferating with an outrageous attractive mixture of sax and scratch. With energetic and stomping sax in the style of Dave Koz is Mr. Wayne Doesn't Live Here Anymore stirring the audience. The funky plate isn't empty as Step It Up demonstrates.

Shufflestreet shows Jakob's skills on alto and baritone sax perfectly overdubbed. The album finishes with a radio edited version of Make It Flow.
Jakob Elvstrøm's debut album SaxClub vol.1 is the prolific manifest of an excellent Danish sax player. In every respect a pleasant surprise.



Jakob Elvstrøm - Website


Buy the album at


Album Information
Title: Saxclub Vol. 1
Artist: Jakob Elvstrøm
Year: 2009
Length: 1:02:56
Genre: General Jazz
Label: Calibrated


Tracks:

01 Make It Flow [5:05]
02 I Love Your Smile [4:35]
03 Monkeytown [4:24]
04 Lost And Not Found [4:56]
05 Down That Road [4:35]
06 Put'Em Up [5:08]
07 Blue And Funky [3:53]
08 Late Night Slammin' [4:50]
09 When We Are Together [4:16]
10 Record Connection [5:06]
11 Mr. Wayne Doesn't Live Here Anymore [3:57]
12 Step It Up [4:09]
13 Shufflestreet [4:33]
14 Make It Flow (Radio Edit) [3:30]