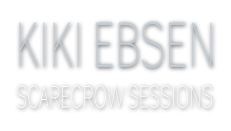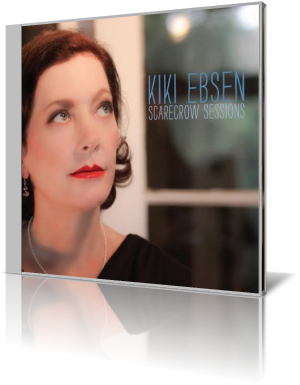 As a jazz vocalist you are faced with the decision to present your own compositions or songs from the American Songbook. The first testifies to creativity, the latter is more popular but also more challenging. However it exposes you to the comparison and competition with a wide variety of other artists.

Singer Kiki Ebsen has chosen the American Songbook, to honor the memory of her father, the great actor Buddy Ebsen. Scarecrow Sessions stands out because of its cultural diversity and professionalism of the musicians involved. John Patitucci (bass), Henry Hey (piano and organ), Chuck Loeb (electric and acoustic guitars), Clint de Ganon (drums) and David Mann on saxophone and flute.
Kiki comments꞉ ďThe songs included are taken from my father's career in movies and musicals, songs he loved, and his original works″. The album opens with You Donít Know What Love Is, originally sung by Carol Bruce for the Abbott and Costello picture Keep 'Em Flying. You learn to appreciate the value of a treasure only when it is lost. The bittersweet of this knowledge is internalized by Kiki with sensuous voice.
If I Only Had A Brain from the movie The Wizard of Oz was by her chosen wisely. Her father was originally selected for the role of the Tin Woodsman, then lost it because of a aspiratory blockage by the toxic alum powder covering his face. Missing You is a song, Kiki's father has written. She found the song sheet rummaging her motherís memorabilia and immediately fall in love with this song.
Moon River is the most popular song of the film Breakfast at Tiffany's starring Audrey Hepburn. Buddy Ebsen had a small but effective role in this film as Doc Golightly, Holly's ex-husband. An insightful reason to take this song for Kiki's album. Yokel Boy, a 1939 Broadway musical, was also featuring Buddy Ebsen. Kiki interprets from this musical the piece Comes Love in skillful empathy.
Tea for Two was Buddy's signature dance routine. His daughter's rendition is slower than the original and has a jazzy approach according to her inclination. Buddy Ebsen stepped with little Shirley Temple At The Codfish Ball in the 1936 film Captain January. In memory of this famous dance routine Kiki Ebsen presents her own rendition. Better fits her take of the song Laura from the same titled film noir (1944). The theme melody was inspired by a "Dear David" letter that composer David Raksin received from his wife.
Easy to Love is a popular song written by Cole Porter for the 1936 film Born to Dance. Again unfolds the empathic talent of this blessed singer. St. Louis Blues was played in the 1936 film, Banjo on my Knee, by Walter Brennan with Barbara Stanwyck and Buddy Ebsen. It was the first song Kiki was taught by her father on piano and the roots of her musical development. Over the Rainbow was written for the 1939 movie The Wizard of Oz, and was sung by actress Judy Garland. A song any jazz singer loves to make his own.
Kiki's first CD Red (1994) was produced by smooth jazz producer Paul Brown. Further albums are Love Loud (2000), Kiki (2002), Cool Songs, vol 1 (2005) and The Beauty Inside (2011). Her new album was successfully funded on Kickstarter and was crowned with great success on Amazon.com, where the first units are already out of stock. With her album Kiki has obviously reached the hearts of those who fondly remember the golden days of Hollywood.




Buy the album in all stores

Album Information

Title: Scarecrow Sessions
Artist: Kiki Ebsen
Year: 2014
Length: 0:43:21
Genre: General Jazz
Label: Painted Piano Media


Tracks:
01 You Don't Know What Love Is [4:46]
02 If I Only Had A Brain [5:42]
03 Missing You [3:00]
04 Moon River [4:13]
05 Comes Love [3:03]
06 Tea For Two [3:12]
07 At The Codfish Ball [2:03]
08 Laura [4:16]
09 Easy To Love [2:45]
10 Prelude [0:49]
11 St. Louis Blues [4:55]
12 Over The Rainbow [4:35]