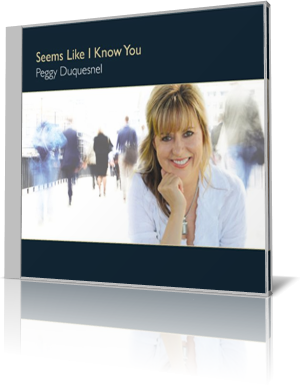 Pianist and singer Peggy Duquesnel is since more than 25 years an active musician. She has released eight jazz, pop and inspirational CDs as a featured artist. Although at home with straight ahead jazz, she had always an affinity for pop music.
When crossing over between jazz and pop smooth jazz comes into play. This is especially true when music stars have contributed to the recording as trumpet player Rick Braun, keyboard wizard Jeff Lorber and bass wonder Jimmy Haslip.
From the instrumental point of view, this EP offers an exquisite music of the finest quality. Melodies and arrangements are convincing in every respect. Peggy merges pop and jazz on the starting title song, which is destined as first single for radio broadcasting. From the more vocal position Peggy is at home in the solid pop music.
This contradiction between the instrumental music that is close to the music of Earth, Wind and Fire for example on When I Think of You and the personal timbre of Peggy's vocals is for a listener who loves smoky voices in this context, not completely solved.
Finally, it is a matter of taste and personal music experience, which is reflected in these lines. Who, for example, loves the music of the Carpenters, is happy with this first-class implementation of pop music into a jazzy frame. With such an instrumentation will Peggy certainly reach her target audience.




Biography

Website


Buy the album in all stores

Album Information

Title: Seems Like I Know You
Artist: Peggy Duquesnel
Year: 2013
Length: 0:22:18
Genre: General Jazz
Label: Joyspring Music

Tracks:

01 Seems Like I Know You [4:42]
02 When I Think of You [4:12]
03 That's How It Always Goes [4:25]
04 Rainy Days and Mondays [4:28]
05 Bird on a Leash [4:30]


Peggy Duquesnel - Vocals / Piano
Jeff Lorber - Keyboards / Engineer
Jimmy Haslip - Bass
Rick Braun - Trumpet / Flugel Horn
Michael Thompson - Guitar
Dee Dee McNeil & Bill Cantos - Background Vocals
Gary Novak, Tony Moore & Jimmy Branley - Drums & Percussion
Rich Breen - Mastering
Peggy Duquesnel, Jeff Lorber & Jimmy Haslip - Arrangements