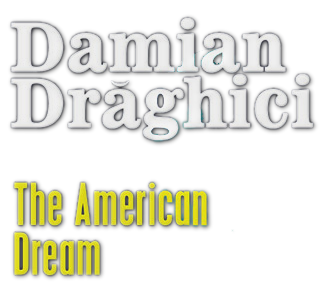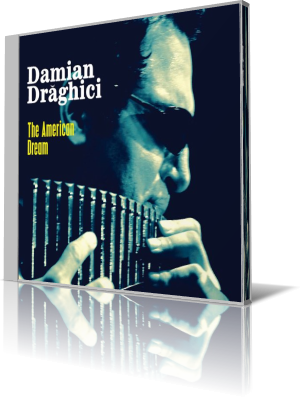 The pan flute is usually allocated to the world or folk music. Gheorghe Zamfir is the best-known performer of this instrument. Pan flute and jazz? That is something new.

Damian Drăghici is such a seldom musician, who interprets with his instrument jazz, as we have never heard before. With his unique triple-tongue staccato technique he is the proven virtuoso on this instrument.

His new album is entitled American Dream (2016). Everyone associates with this term his own vision. "The American Dream has been a dream of mine for a while now," Draghici recalls. "Here's how the story started almost 30 years ago. When I was 17 years-old during the communist times in Bucharest, Romania, I saw and heard for the first time real American jazz musicians playing live.

That was the moment I fell in love with jazz and I knew that I had to go to America to learn jazz – to play and improvise bebop on my instrument – to become the Bebop Pan-piper." American Dream is a collection of jazz standards produced by Dan Siegel and Tom McCauley.

Donna Lee opens the set. Originally composed by Miles Davis the bebop jazz standard was first recorded by the Charlie Parker Quintet. The introduction is fast like Nikolay Rimsky-Korsakov's Flight of the Bumblebee on ecstasy. The piece is performed beside Damian by Arturo Sandoval on trumpet, Russell Ferrante on piano, Tom Kennedy on bass, Dave Weckl on drums and Paulhinho da Costa on percussion. A stellar moment of amazing jazz musicians note by note.

Ceora is a Latin jazz original by Lee Morgan released on his 1965 Blue Note album, Cornbread. The rendition features Chris Botti on trumpet teaming up with Damian in the lead. A swaying Bossa Nova with a genuine passion.

Giant Steps is a title from the same named fifth studio album (1960) by jazz musician John Coltrane. Eddie Daniels performs the clarinet, Mitchel Forman piano, Larry Koonse guitar, Stanley Clarke bass, Vinnie Colaiuta drums and Luis Conte percussion. The cohesion between all players is brilliant and the rendition on the highest level.

From Within is taken from the Latin jazz album Rendezvous by Michel Camilo (1993). The composer and pianist himself duets with Damian in a compelling interpretation. The jazz fusion instrumental Spain (1971) by jazz pianist and composer Chick Corea appeared on the album Light as a Feather. The pan flute gives this theme another character compared to the original keeping the tune fresh and intoxicating.

Modinha was released by Brazilian singer Elis Regina and singer/songwriter Antônio Carlos Jobim in 1974 on the album Elis & Tom. Luciana Souza sings the text in original Portuguese language accompanied by Damian on pan flute and Charlie Bisharat on strings. An incredibly emotional understanding of Jobim's musical soul.

You Must Believe in Spring was composed by Michel Legrand for the musical movie The Young Girls of Rochefort (1967). The theme was covered by pianist Bill Evans in 1977 and became popular in a vocal version with Tony Bennett on their second album, Together Again. With a great sense for the emotional power of the melody, full of vigor and fervor, keeps Damian the song alive.

My Song is the title track of an album by jazz musician Keith Jarrett. This tune is overall melodious and ideally suited for Damian's instrument. In contrast to the previous piece stands More Than Yesterday by late Oscar Castro-Neves, who also performs guitar on this fast paced Bossa Nova. Scat singer Luciana Souza and Damian break all speed records.

See the World is from Secret Story, an album by Pat Metheny released in 1992. Damian captures the part of Metheny's guitar, Craig Fundyga on vibraphone keeps the melody going before Damian takes the banner again and reaches it to Doug Webb on soprano sax. A vibrant celebration of Metheny's heritage.

César Camargo Mariano composed Curumin for his album Samambaia in 1981. The project brought together this remarkable pianist, arranger and composer and the internationally renowned guitarist Helio Delmiro, two of the biggest names in Brazilian instrumental music. Damian shines on his rendition with energetic phrases and breathtaking dynamic.

Waltz for Debby is the title song of an album by American jazz pianist Bill Evans and his Trio (1962). Pianist Otmaro Ruiz and flutist Damian skillfully conjure the spirit of Evans' probably most popular piece. Samba de Uma Nota Só (One-Note Samba) is a song composed by Antônio Carlos Jobim often covered by numerous artists from jazz to pop. Contemporary speed paired with fashionable melody that are the ingredients of success.

Pan flutist Damian Draghici showcases with The American Dream the incredible breadth and beauty of an instrument, that was previously unknown in these genres. The gift of an exceptionally talented artist, who set out to new climes.






Buy the album in all stores

Album Information

Title: The American Dream
Artist: Damian Draghici
Year: 2016
Length: 1:04:40
Genre: General Jazz
Label: Century Jazz Records


Tracks:
01 Donna Lee (Featuring Arturo Sandoval) [6:07]
02 Ceora (Featuring Chris Botti) [5:44]
03 Giant Steps (Featuring Eddie Daniels) [6:08]
04 From Within (Featuring Michel Camilo) [6:13]
05 Spain [5:17]
06 Modinha (Featuring Luciana Souza) [4:08]
07 You Must Believe in Spring [5:03]
08 My Song [5:38]
09 More Than Yesterday [4:45]
10 See the World [5:01]
11 Curumin (Featuring Frank Gambale) [3:28]
12 Waltz for Debbie [4:37]
13 One Note Samba [2:33]