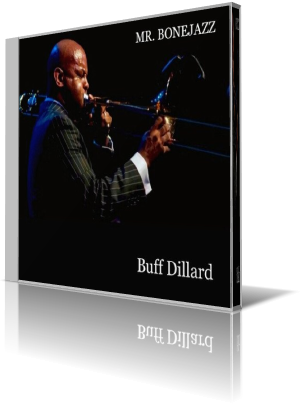 Trombonist Buff Dillard attended the Philadelphia All-City Jazz Academy, performed with the Philadelphia All-City Jazz Band, jazz sensation Pieces of a Dream, and the legendary Count Basie Band. During his solo career he has released the albums Jazzful Hymms (2008), Genesis (2009), Awaken (2010), Christmas Moments with Buff Dillard (2011), Against All Odds (2012), and Mr. Bonejazz (2015).
On his new album he is accompanied by Shableek Richardson and Derwin Friday (sax), Melvin Gray and John Dillard (bass), Calvin Naper, Brian Houze and Clayton Turnage (drums), Paul Dozier (lead), Howard McNair (organ), Donald Dean (lead fill), Sai dha Harley (violin), Jeremy Kox (keys) and more.
The Intro is heating up the mood with some radio voices announcing the brilliant trombonist called Mr. Bonejazz. With the funky Step Buff brings his trombone in full harmony giving it a good overdub. Stylistically he can be compared with trombonists like Jeff Bradshaw, Trombone Shorty or Steve Baxter.
With the Moses Dillard Groove he digs deeper into funky region. Howard McNair on organ and Paul Dozier on guitar nail their solos and fills perfectly, while Derwin Friday duets on sax with Buff. You're Beautiful catches us with a crispy groove. Vocals, violin and trombone is a surprising combination, but it works!
After Midnight opts to elegance. The sound is entrancingly full. Buff leads the main body of Think Again. That as soloist but also with several instrumental voices to get the real harmony. Melodic Therapy is exactly what the title says. Soothing, intoxicating, flawless melodious.
When rhythm and melody are melting to an irresistible groove like on the title song, you know Mr. Bonejazz has done everything right to the point. Echoes in harmonies is the perfect description for My Destiny. What is the attraction of a big city? It is the vibrant life and the many possibilities. Queen City Vibe is Buff's hymn to the mega city.
Some pieces unfold their elemental force with only one instrument. A Place Called (Ther3) is written just for the trombone. Latin influenced tune EVA sets the final point for a successful album.
Mr. Bonejazz is all about trombonist Buff Dillard. His punchy tracks will entertain every smooth jazz fan.




Biography

Website


Buy the album

Album Information

Title: Mr. Bonejazz
Artist: Buff Dillard
Year: 2015
Length: 0:54:14
Genre: General Jazz
Label: Bonejazz Entertainment


Tracks:
01 Intro [1:02]
02 Step [4:23]
03 Moses Dillard Groove [4:22]
04 You're Beautiful [4:55]
05 After Midnight [8:02]
06 Think Again [5:10]
07 Melodic Therapy [4:47]
08 Mr Bonejazz [5:01]
09 My Destiny [3:30]
10 Queen City Vibe [4:12]
11 A Place Called (Ther3) [4:40]
12 Eva [4:09]