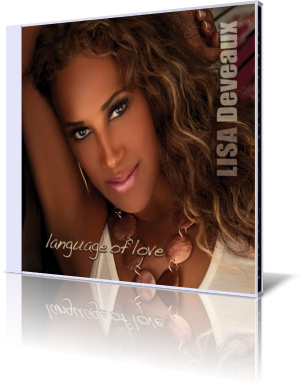 Chicago native songstress Lisa Deveaux unites a lovely voice with an extraordinary good-looking outward appearance. Sergio Mendes, Earth, Wind & Fire, Diana Ross and Sade are her idols and influences. She sings many styles from R&B to jazz and soul. Phyliss Hyman as her vocal coach and her own natural beauty are the groundwork for a great career.
Her debut album Shakin' That Jazz (2003) featured Bobby Lyle, Karen Briggs and Everette Harp. Blending Brazilian, Smooth, and R&B sounds her devotion for jazz is undeniable.
Now Lisa is back with her sophomore album Language of Love (2011) still in the tradition of soulful jazz. "Language of Love is a look into my journal," the lady shares. "It's about being open, honest and willing to be hurt. Love is beautiful yet unpredictable – fragile and frustrating – and sometimes tragic. No matter how hard some of my experiences have been, I have always survived by maintaining an optimistic perspective."
With Get Up In It sassy Lisa serves some R&B flavored soul in the style of James Brown. You Belong To Me is her sultry confession of eternal love. Finally showcases more of her musical sweetness. Calling You is a phone inspired intermezzo.
The title song is Lisa Deveaux' entrance to smooth jazz featuring saxophonist Marion Meadows. Lisa's charming vocals is wonderfully supported by Marion's soprano sax. Who can withstand her breathy French declarations of love?
Could You Be The One asks Lisa with innocent attitude. Lew Laing and Makeda Francisco have written this tune. Lew has recorded with Paul Jackson, Sekou Bunch, Rodney Taylor, Nick Smith, Darrell Crooks, and many other notable musicians.
The song Ooh Boy was written by Norman Whitfield and was first released by Rose Royce in 1977. Compared to the original Lisa has accelerated the song to a contemporary tempo. The interlude Time creates the emotional mood for the following tunes Angel and This Time. Love songs are Lisa's favorites.
Beautiful impresses with a grooving rhythm. Lisa's haunting vocals perfectly fit to the irresistible flow. The last track Birthday Wish features well renowned guitarist Paul Jackson and his First Signature Model PRS. A great replacement for Marilyn Monroe's Happy Birthday.
Lisa Deveaux adds with Language of Love her own R&B flavored style to the smooth jazz genre. Lisa says "I felt it necessary to delve into some other things with this record and create a real connection with people. "Language of Love" is all me: loving, vulnerable, open... and real." Let the beauty we love be what we listen.




Buy the album

Album Information

Title: Language Of Love
Artist: Lisa Deveaux
Year: 2011
Length: 0:43:06
Genre: Smooth Jazz/R&B
Label: Island Girl Music


Tracks:

01 Get Up In It [3:40]
02 You Belong To Me [4:19]
03 Finally [4:24]
04 Calling You [1:12]
05 Language Of Love [4:51]
06 Could You Be The One [4:41]
07 Ooh Boy [3:44]
08 Time [0:48]
09 Angel [4:19]
10 This Time [4:21]
11 Beautiful [4:19]
12 Birthday Wish [2:28]