J.P. DeLaire - In My Life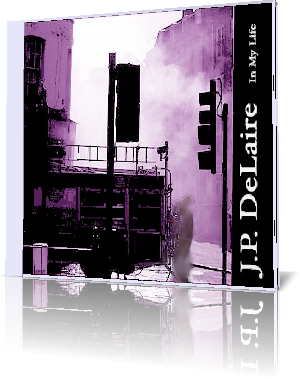 This is rather curious. Jason Peterson Delaire, a member of the Peterson family of Minneapolis, is known as a prolific saxophonist, keyboardist and singer. He toured with such artists as Oleta Adams, Prince, Alexander O'Neal, Richard Marx, Solo, Donny Osmond, and Cherrelle and recorded with Michael Bolton, Alexander O'Neal, Prince, Donny Osmond, as well as Bobby Brown, Ben Sidran and Flyte Time Productions.
Designated as a smooth jazz musician his solo project In My Life is although pure R&B. Well, the influence of Prince on DeLaire's music is undisputable. It was DeLaire's top hit In My Life, which allured my attention. And indeed the video of this song was one of the most viewed in 2008 on YouTube.
The album attracts with wonderful ballads like Never Enough or Prodigal Sun presenting DeLaire as splendid R&B singer. The groovy I Need Your Love is flirting with vocoderized vocals.
But it's the title song which levels the album to a superior project. Something that could be penned by Prince himself. Gotta Keep The Funk Alive let's your spinning top move. While Last Call is a turntable spin-off with a nice sax overlay.
More fundamental R&B groove is placed in Special Lady. While We Can't Go On searches the emotion in retro soul. Heartfelt ballades like Living With A Broken Heart and True Love will evoke sentiments of the female audience.
J.P. DeLaire continues the tradition of the famous Peterson Family of Minneapolis. Stepping out with his own voice was DeLaire greatest wish and the fulfilling of this wish is a bless for us all.



Jason Peterson DeLaire - Website


Buy the album

Album Information
Title: In My Life
Artist: Jason Peterson Delaire
Year: 2009
Length: 0:43:48
Genre: General R&B
Label: Independent

Tracks:

01 Never Enough [4:13]
02 Prodigal Son [4:04]
03 I Need Your Love [4:09]
04 In My Life [4:12]
05 Gotta Keep The Funk Alive [4:45]
06 Last Call [4:18]
07 Special Lady [4:42]
08 We Can't Go On [4:24]
09 Living With A Broken Heart [4:29]
10 True Love [4:33]