J.Dee – Smoove On The Move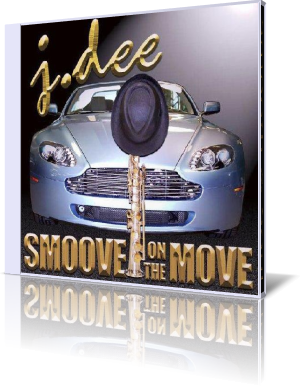 John Bolden aka j.dee is one of those artists hiding his musical biography very well. Did you know for example that he was producer, arranger, percussionist, keyboardist and background vocalist on Grover Washington Jr.'s album Next Exit (1992)? What and where did he perform after all that time?
Well, he produced the albums The Concept of the group Y.T. Style (1993) and Str-8 from Da Boot of Nais (1995). You will also find his credits on albums of Grover Washington Jr. like Prime Cuts: The Greatest Hits (1999), Trios (2004) and Gold (2006).
He gave his debut as solo artist with his album Tippin' on the Edge of Funk (2007) on NuGroove Records. This album was promoted: "Deliciously grooving with true urban funk and soul, Bolden also includes a generous portion of Latin rhythms in this hot CD."
Now j.dee is back with his sophomore album Smoove On The Move (2009), a real outburst of creativity on 14 tracks. It's On & Crackin' conjures an exotic mixture of electronic sound and soprano sax. John performs the soprano sax like a snake charmer. The title Boom Ba Boom Boom Boom features singer Claude J. Woods. Claude is currently a member of a The Earth, Wind, and Fire Experiences Feat. The Al McKay Allstars and also performs with Brian O'Neal and The Busboys.
Coast Rollin' showcases j.dee as multi-instrumentalist on soprano sax, keyboards and programming in a hypnotic groove. Ever been in a dance school? Then try Let's Walk and the teaching Big Hoss. He is known as rapper of the groups Subnoize Souljaz and Saint Dog.
On Smoove on the Move j.dee extensively use the overdub procedure to celebrate his melody on soprano sax. I'm Bout Ta Bust a Move on Ya! shows again the hypnotic twist we already recognize on Coast Rollin'.
But j.dee is not only an excellent sax player. On Too Hip Fa Seafood (Where's Da Yawdbird? he presents his raw and dark vocals. Don't take the song text too serious. Is This Cool or What? is j.dee's next more apodictic question. We feel the groove!
Stevie Wonder wrote the hit single Don't You Worry Bout a Thang! for his album Innervisions (1973). John Legend, Incognito and Main Ingredient have already covered this fantastic song. J.dee adds his personal homage to the eternal idol Stevie Wonder.
The vocal interlude Get Gone, j.dee as a capella group, introduce into Keep It Movin' Baby. This soulful tune keeps much atmosphere for dreams and flirtation. Zoom Zoom features the expressive Tommy Organ on guitar. Tommy is like Paul Jackson Jr. an in-demand sideman who has performed with numerous artists like Usher, Beyonce, Chante 'Moore, Kenny Lattimore, Ray Charles, Anastacia, and a lot more.
My personal highlight of this album is however Ask Myself presenting U'Pal R. King in an irresistible groove. Please j.dee more! Final tune of this album is an instrumental reprise of Yawdbird.
As unique as j.dee's neologism is his musical creativity, a wanderer between the world of smooth jazz, R&b, rap music and blues. Without a doubt the expression of a matured musician.




J.Dee - Website


Buy the album



Album Information
Title: Smoove on the Move
Artist: J. Dee
Year: 2009
Length: 0:53:13
Genre: Smooth Jazz
Label: NuGroove Music LLC


Tracks:

01 It's On & Crackin' [4:25]
02 Boom Ba Boom Boom Boom [3:58]
03 Coast Rollin' [3:32]
04 Let's Walk [4:03]
05 Smoove on the Move [3:49]
06 I'm Bout Ta Bust a Move on Ya! [3:39]
07 Too Hip Fa Seafood (Where's Da Yawdbird?) [3:27]
08 Is This Cool or What? [3:40]
09 Don't You Worry Bout a Thang! [4:25]
10 Get Gone (Vocal Interlude) [0:58]
11 Keep It Movin' Baby [5:46]
12 Zoom Zoom [4:19]
13 Ask Myself [3:47]
14 Yawdbird (Instrumental) [3:24]