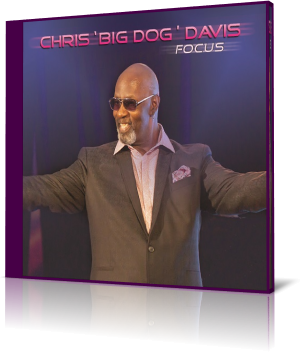 Hailing from Waterbury, Connecticut GRAMMY nominated producer, writer and multi-instrumentalist Chris 'Big Dog' Davis is one of the main producers of the smooth jazz area. He worked for Althea Rene (Flawsome), Nick Colionne (The Journey), Norman Brown (The Highest Act Of Love), Pieces Of A Dream (All In), Art Sherrod Jr. (Back 2 Business), Gerald Albright (30), Phil Perry (Breathless), Marion Meadows (Soul City), Najee (The Smooth Side Of Soul), Maysa (Blue Velvet Soul), Kim Waters, Rick Braun, Chanté Moore, Dave Koz, Will Downing and many more. He has significantly influenced the sound of smooth jazz.
However Focus (2020) is his first solo album in this genre. Consequently, some of his musician friends have contributed to his album debut. Among them are Gerald Albright (sax), Bluey (guitar, vocals), Maysa (vocals), Rick Braun (trumpet), Dave Koz (sax), Tony DePaolo (guitar), Nick Colionne (guitar), Kim Waters (sax). Furthermore Ace Livingston (bass), Patrick Williams (guitar), Marty Quadrato (sax), Dawn Tallman, and Timmy Maia (backgrounds).
The first track of the album is a cover of Chaka Khan terrific Gold awarded hit Whatcha Gonna Do For Me (1981). Chris counts Chaka to his predominant influences, so his choice is more than understandable. Chris takes the song as a starting point for his groovy arrangement, which comes to life through Gerald Albright's outstanding sax improvisations.
Although the title song was written by Chris himself it gets a typical Incognito feeling by the collaboration of Bluey and Maysa. That Maysa with her superior vocal performance ennobles every song is no secret. In addition Chris' skillfully played keyboard solo gives the song its elegant pep.
One Day At A Time features Chris and trumpet player Rick Braun in an intimate lounge style duet of a very special kind. Imagine Earth, Wind and Fire would perform a gospel song. That's what You Are Loved has to sound like.
The short and rhythm infected Silver Street is featuring saxophonist Marty Quadrato aka Marty Q. Marty, who has so far flown under my radar, finally has the opportunity through Chris to increase his visibility. Saxophonist David Koz, who is one of the stars of the smooth jazz scene, certainly doesn't need that anymore. He is presented on the heartfelt It's All Love.
When you listen to You Just Smile, you get the impression that Chris' special strengths are gentle ballads that give preference to the atmospheric. Natural High is the second jazzy piece on which Marty Q can prove his skills.
On Fall Back Chris flirts coquettishly with a game console sound. Chris draws the "Big Dog Groove" on Just When You Thought You Had Enough where he has found the right musical companion in guitarist Nick Colionne. The last song Blue Light Special Chris has reserved for his friend and longtime label mate Kim Waters. Chris lives his passion for stylish music with great experience and maturity.
If I can say anything negative about Chris' new album, it is that he is showing us his art much too late. Focus shows us his mastery in all its nuances. What we could already hear on the many albums of his clients, here it is brought to a point, just focused.







Buy the album in all stores

Album Information

Title: Focus
Artist: Chris 'Big Dog' Davis
Year: 2020
Genre: Smooth Jazz
Label: Shanachie Entertainment


Tracks:

1) Whatcha Gonna Do For Me (feat. Gerald Albright) (4:05)
2) Focus (feat. Maysa and Bluey) (4:01)
3) One Day At A Time (feat. Rick Braun) (3:59)
4) You Are Loved (feat. Ace Livingston) (3:37)
5) Silver Street (feat. Marty Q) (2:24)
6) It's All Love (feat. Dave Koz) (3:25)
7) You Just Smile (feat Tony DePaolo) (4:21)
8) Natural High (3:23)
9) Fall Back (4:09)
10) Just When You Thought You Had Enough (feat. Nick Colionne) (2:21)
11) Blue Light Special (feat. Kim Waters) (4:05)