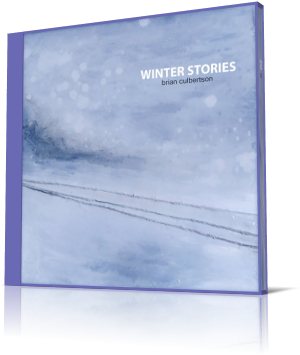 Pianist and composer Brian Culbertson has put himself in a tight spot with the announcement that his new album Winter Stories is the first in a series of four albums related to the four seasons of the year. This announcement comes as a bit of a surprise as he has just pledged his album XX for the next year.
According to the liner notes is Winter Stories not a Christmas album, however is the album blessed by the holiday spirit. Brian performs on the new album piano, Wurlitzer, Fender Rhodes, Hammond B3 Organ, percussion and Celeste. He is accompanied by Steve Rodby (acoustic bass), Khan Parker (drums) and Lenny Castro (percussion on two songs). All songs are written, arranged and produced by Brian.
Brian introduces the listener to his album on Sitting By The Fire with cautious long reverberating keystrokes. The title already conveys the coziness of the music. Endless plains, snow-capped mountains and torrential rivers are the main features of the state of Montana, to which Brian Culbertson dedicates his song Montana Skies.
Morning Walk continues this piano style with a pronounced reverb sound and a fine acoustic bass. On Flurries Brian sketches the free fall of the snowflakes as they individually and together seek the proximity of the ground.
A romantic sleigh ride in the beautiful winter scenery is a leisure activity that many would enjoy. Brian brings a new alternative into the game: City Sleigh Ride. So his hand jumps over the piano keys, because such a ride becomes bumpy and adventurous. Lenny Castro provides the winter ambience with his jingle bells.
Waltz For M is dedicated to Brian's wife Michelle Culbertson (Micaela Haley), with which Brian has already realized several musical projects. An unadulterated love that has grown over the years. Brian has written Island Dream for everyone who wants to cheat the cold winter. Every person has his individual imagination of the island of happiness. This is your musical guide to your personal reverie.
Northern Lights is Brian's musical contemplation of the phenomenon called Aurora Borealis, the greatest light show in nature. Frosted Window gives each viewer his or her own view of things. In a present marked by time pressure and hectic pace, Brian's music invites us to reflect and slow down in order to find our way back to our own self.
Brian is not afraid to achieve the maximum effect with the minimum use of notes. Starry Night isn't just about the firmament in the sky, it's about how you relate to the world that surrounds you.
Brian Culbertson's Winter Stories is written for all those who still take time for music. The music is simple, unpretentious and allows the melody to have a soothing effect on the listener. Brian Culbertson can also be different, as we know from his R&B and Funk albums, but on this album he is a master of gentle tones.




Buy the album in all stores

Album Information

Title: Winter Stories
Artist: Brian Culbertson
Year: 2019
Genre: Smooth Jazz
Label: BCM Entertainment

1 Sitting by the Fire 3:45
2 Montana Skies 5:10
3 Morning Walk 5:11
4 Flurries 4:40
5 City Sleigh Ride 3:33
6 Waltz for M 4:59
7 Island Dream 4:33
8 Northern Lights 2:53
9 Frosted Window 5:38
10 Starry Night 3:15