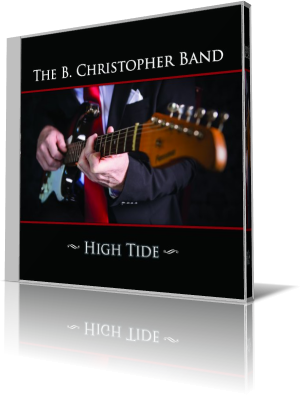 Guitarist and composer B. Christopher has written more than 8000 placements on various TV channels. He describes his debut album High Tide (2015)꞉ "With one foot in modern jazz, the other in the blues and an innate sense of melody, this instrumental offering is sure to please even the most discerning pallet.″
Musicians like Nathan East, Anton Fig and Kenny Aronoff have all lent their talents to this debut. Other artists are Steve Carter (drums), Lucas Wolk (percussion), Eric Collier, Nick Douglas and Frankie Gibson (bass).
The starter Best Laid Plans offers mellow guitar harmonies with a splash of country touch. The focus is on a catchy melody that reveals itself through perfect playing.
Islamorada is an island paradise in the beautiful Florida keys. Christopher inhaled the atmosphere of this magical place in the same titled ode. Lavender keeps the romantic mood swinging. Christopher is performing on Fernandes guitars with a sound that runs through all his pieces.
Flashback borrows the musical cultural heritage of other musicians. This guitarist likes to present dreamy motifs like the tune Eights. The frequent repetition of the melody can be seen as artistic intention. Touch of Class priced in with a hooking melody, provided by two guitars in variations.
On Fifth At Six Christopher expands his guitar chords on the shining melody. With Red Wine he gives the album a juicy note. The final Saratoga can be found in accordance with the preceding songs, melodic, tempo-wise and thematically.
With High Tide Christopher B. gives fans of guitar music a feel for good times with good company.



Buy the album in all stores

Album Information

Title: High Tide
Artist: The B. Christopher Band
Year: 2015
Length: 0:41:08
Genre: General Jazz
Label: Big Bug Music


Tracks:
01 Best Laid Plans (Featuring Nathan East) [3:51]
02 Islamorada (Featuring Anton Fig & Nathan East) [5:53]
03 Lavender (Featuring Nathan East) [5:11]
04 Flashback (Featuring Anton Fig) [3:20]
05 Eights (Featuring Nathan East & Kenny Aronoff) [4:47]
06 Touch of Class [3:49]
07 Fifth At Six [4:52]
08 Red Wine [5:15]
09 Saratoga [4:11]