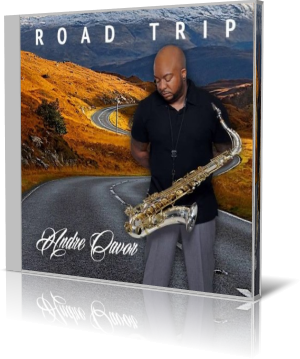 Cleveland based saxophonist Andre Cavor follows with RoadTrip (2017) his idols Kirk Whalum and Jonathan Butler on their path to the ideal blend of smooth jazz and gospel music.
Andre started his journey performing sax in church and then founded The Cavor Project, an 11 piece ensemble spreading a good reputation around the area. This album mirrors his biographical development shifting Cavor's artistic life to a new level.
In the implementation of the project Andre is perfectly supported by the producer Darren Rahn. Darren contributes his high level of artistry, experience and the certain refinement of a genius as composer, arranger, producer and musician.
The album consists of three tunes penned by Darren, two covers and five of Andre's favorite gospel songs which are also part of his long time performance with his formation.
The title song bears Rahn's signature in composition, arrangement and style, while Andre introduces his own personality especially in the artistic performance and creativity. Kenneth Babyface Edmonds penned Ready Or Not for the debut album of the group After 7 in the popular R&B style of the 80's. The rendition shines with the modern elegance of a more contemporary style refining the melody in a new and crisp light.
Quite understandably Andre has chosen Adele's Hello as second cover. While radio has beaten the original to death, Andre reveals with his contribution the eternal freshness of the melody. Say Somethin' pops up with a groovy hybrid of body sound and the synth bass as fundamental key element.
Heaven by brother and sister duo BeBe & CeCe Winans was one of my favorite songs in 1989 and later. A stellar recording standing the test of time. With the exception of the rhythm part Darren lets the original instrumentation untouched. I especially love the wonderful synthesis of guitar and LA sound. Andre nicely replaces the divine vocals of the Winans.
Andre Cavor interprets You Brought the Sunshine by the Clark Sisters (1981) in an interesting mixture of old and new. A funky bass architecture meets sax on the borderline of smooth jazz to contemporary jazz. Without a Doubt is a streamlined smooth jazz groove as close to the taste of audience as it could be. Designed by Darren Rahn of course!
Gerald Robinson's More Than Anything is a wonderful worship and Andre performs this piece with great confidence, passion and emotion and even greater portion of respect for the original. For Your Glory combines Andre's outstanding sax performance with the vocals of Shauna Chanda, Collinus Newsome & Ian Mitchel G. Pitter which fits hand in glove perfectly together.
When you listen to Richard Smallwood's Total Praise, you will be impressed by the deep genuine feelings of the song. Andre shares these religious and euphoric sentiments making his faith and trustfulness with great authenticity to the central theme of this instrumental reinterpretation.
Sometimes it is necessary to work out the depth and beauty of a project with a detailed analysis. Andre Cavor's album RoadTrip enticed easy to lose yourself in detail, but this album is simply worth every word of description.




Buy the album in all stores

Album Information

Title: RoadTrip
Artist: Andre Cavor
Year: 2017
Genre: Smooth Jazz
Label: Independent


1 RoadTrip 4:02
2 Ready or Not 4:39
3 Hello 4:57
4 Say Somethin' 4:22
5 Heaven 4:31
6 You Brought the Sunshine 4:09
7 Without a Doubt 4:06
8 More Than Anything 7:03
9 For Your Glory 6:58
10 Total Praise 5:59