Earl Carter - Project X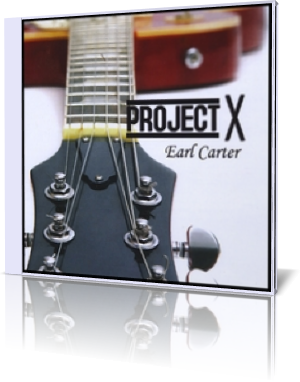 Guitarist Earl Carter is well known in smooth jazz business. He already recorded with Marcus Johnson, Bobby Lyle, Jaared, Alyson Williams, Spike Lee, John Tillery and also performed with Nick Colionne, Bob Baldwin, Mike Phillips, Freddie Jackson, Michael Lington and a lot more.
He regularly release solo albums as No Frettin' (2002), 495 (2005), My Paradise (2007) and this year Project X. After the first listen I was pleasantly surprised about the fresh and unadulterated sound. Earl is escorted by top-notch musicians as Dwayne Kingo Wellman (drums), DeAndre Minor (organ), Eric Marner (sax), Glenn Douglas (clavinet, keyboards), Milton GoGo Mickey Freeman (congas), Glen Arnett (keyboards), Robert Wright (drums), John Ford (bass) and some more. With this great impact you can't go wrong.
It's the intimate combination of electric guitar and bass with a strong organ line which makes The Village Pt 2 so outstanding. That could be a jam session in a small jazz club and when Eric Marner blows his tenor sax, this impression is complete.
On Believe In Dreams Glenn Douglas delivers full keyboard power and with the united forces Earl Carter's jazz guitar licks are unbeatable brilliant. Glenn, a native of Washington D. C., has performed and recorded with artists as Jerry Butler, Gene Chandler, Yolanda Adams, Al Green, Jean Carne, Eric Benet, Monica, Marcus Johnson, and Jr. Walker and the All-Stars.
Earl entitled the next track Cool One. And really the guitar tones slowly creep into your brain. Earl plays on this tune besides guitar, bass, keyboards and percussion. Dwayne's drums keep it groovin'.
On Strat World the drums are played by William Ju Ju House. In the 80's he was EU's funky heartbeat. Exotic keyboard chords are pulsing through X Factor while Earl keeps the melody and rhythm line.
The Urban Let It Go features singer Josh Stepherson who also performed Come With me on Earl's previous album My Paradise. Rhythm enhanced Tricky approaches the jam session lover.
This Love is an edgy rendition of the song by Maroon 5 from their hit album, Songs About Jane. The slow-tempo Foreplay gives you time for recreation and recovery. Eric Marner and Earl have a conspiratorial interaction.
The Craft showcases Glenn Douglas in an awesome keyboard solo. A precious support for guitarist Earl Carter. Underlining this realization Glenn clarifies with My Life In Your Hands his craftsmanship as superior composer and musician.
Final tune of this album is an instrumental version of Let It Go, performed like an echo of the vocal version.
Earl can be proud about his new album Project X, a giant step from a musician to a composer and hit maker.




Bio

Earl Carter - Website


Further reviews

Buy the album at


Album Information
Title: Project X
Artist: Earl Carter
Year: 2009
Length: 0:47:24
Genre: Smooth Jazz
Label: Slick Sound Entertainment

Tracks:

01 The Village Pt 2 [5:05]
02 Believe In Dreams [3:45]
03 Cool One [4:32]
04 Strat World [4:12]
05 X Factor [4:21]
06 Let It Go [3:39]
07 Tricky [3:28]
08 This Love [3:31]
09 Foreplay [4:36]
10 The Craft [3:32]
11 My Life In Your Hands [3:29]
12 Let It Go, Instrumental [3:12]