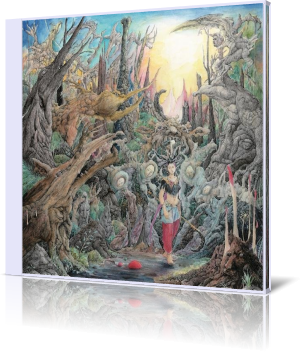 Cody Carpenter, the son of movie genius John Carpenter, steps out the huge shadow of his father. In addition to contributing music for two of his father's films, Vampires (1998) and Ghosts of Mars (2001), Carpenter composed and performed the full-length score for "Cigarette Burns" and "Pro-Life" in Showtime's Masters of Horror (2005) movie series. ​ Cody co-wrote, co-produced, and performed on the acclaimed Lost Themes (2015) and Lost Themes II (2016) with his father and Daniel Davies.
One can meet Cody under his alter ego "Ludrium". Infiltrate The Mother Ship for example offers progressive rock, game music, fusion, and synth stylings. His newest solo project is Cody Carpenter's Interdependence, released in 2018 on Blue Canon Records.
Cody planed to create this time music in the jazz rock realm. So he first contacted bass player Jimmy Haslip, with whom he already worked some years ago. Influenced by the early Genesis and keyboardist Keith Emmerson he wanted to try something in that direction. While on the albums by Ludrium are mostly vocal tracks, Cody decided to make a pure instrumental album this time.
Those who know the music of Keith Emmerson will soon get familiar with Jinrai Fuuretsu. Cody's fingers slip smoothly over the keys of his synthesizer. Hard for bassist Jimmy Haslip and drummer Scott Seiver to follow his tempo. Face The Future should rather be called Face The Past, because here, too, bass, keys and drums merge to form a close-knit team of Jazz Rocks.

Overlooking the Divide offers the quaint mix of Hammond B3 and synthesizer. I have to strain my gray brain cells to look for clues so far in the past. Jimmy Haslip's bass line makes the difference bringing in some jazz appeal. The Divide is a cabinet piece in the true sense of the word. Variations of synthesizers unite in harmony.
All tunes in common is that they are fast paced and the synthesizer as the dominant instrument carries the melodies. Cody Carpenter's Interdependence is in the tradition of jazz rock, which is often referred to in America as fusion jazz. Despite all the terminology that clings to this style, this album is not about showing off one's own virtuosity, but about living out the joy of music that is closest to one's own.



Biography

Buy the album in all stores

Album Information

Title: Cody Carpenter's Interdependence
Artist: Cody Carpenter
Year: 2018
Genre: Jazz Rock
Label: Blue Canon Records


Tracks:
1 Jinrai Fuuretsu 4:11
2 Face the Future 4:38
3 Overlooking the Divide 3:52
4 The Divide 3:43
5 Heart of Slag 3:40
6 Thinking of What Might Be 4:05
7 The Procession 4:55
8 Premonition 5:07
9 Her Precious Youth 4:19
10 A Simple Sustenance 1:51
11 Nebulous is the Power 5:32




Keys/Guitar: Cody Carpenter
Bass: Jimmy Haslip
Drums: Scott Seiver
Drums (track 11): Virgil Donati
Bass (track 7 & 11): Cody Carpenter
Drums (track 7): Cody Carpenter
Guitar (solo track 11): PJ D'atri
Mixing & Mastering: John Spiker