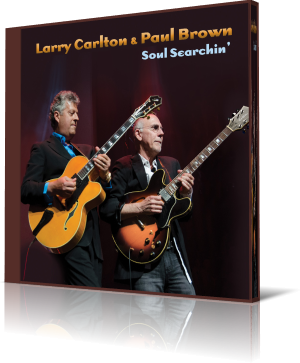 When two guitar virtuosos of high renown play together, it is fair to expect something great. It was that way with Larry and Lee, and it's no different with Larry and Paul.
This is not the first time the two have worked together. As Larry notoriety shot up through his period with the supergroup Fourplay, he decided to release the solo album Fingerprints. Paul Brown played on this album drums and also worked as composer, arranger, producer and recorder. It was not until twenty years later that the idea of recording a guitar album together matured.
The album opens with Miles and Miles to Go written by Wes Montgomery inspired guitar player Mark Carter. Paul and Larry are perfectly attuned to each other and the tone colors of their guitars are also very similar.
Stomp shines with a country music flavor backed by a polished horn segment formed by trumpeter Ron King and saxophonist Greg Vail.
By the way, most of the songs were penned by multi-instrumentalist Shane Theriot, who still frequently plays with Daryl Hall and John Oates. Gone Fishin' is a deeply relaxed, yet rocking song that animates nature-loving dudes.
The bluesy Hip Pocket wakes up the last vital spirits, terrific! Connoisseurs of the soft rock field will feel right at home with Aftershock. When the skies are not blue, then one experience Blues Skies, the place for bluesy guitarists to be. Roberto Vally on bass and percussionist Lenny Castro deliver the right background groove.
The title Truckin' On reveals quite a bit for which population this song was written, for the pioneers of the country road. You can literally smell the scent of heavy rubber tires.
The high art of the guitar duo is also celebrated on Say What's on Your Mind. Filigree intertwines one theme with another.
Shelter is the only vocal song on this album. Although Paul Brown's signature style is grounded in smooth jazz, his true love was always the blues. He has lived out this love in particular on his solo album Uptown Blues.
The album finds an adequate ending with the title song, which magically lifts the music to an emotional level and ignites the spark.
When two brilliant guitarists get together, you can only expect good things. This expectation is fully met on Soul Searchin', especially if you are a fan of blues music.




Buy the album in all stores

Album Information

Title: Soul Searchin'
Artist: Larry Carlton & Paul Brown
Year: 2021
Genre: Smooth Jazz
Label: Shanachie Entertainment

1) Miles and Miles to Go (4:26)
2) Stomp (4:12)
3) Gone Fishin' (4:44)
4) Hip Pocket (4:08)
5) Aftershock (3:36)
6) Blues Skies (4:23)
7) Truckin' On (4:25)
8) Say What's on Your Mind (3:51)
9) Shelter (3:05)
10) Soul Searchin' (4:16)